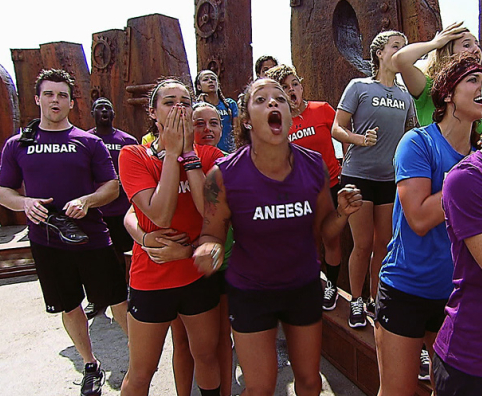 by Gina Scarpa
Given that the first season of Rivals was one of the best in Challenge history, my expectations are set high for Rivals 2, which premiered last night on MTV. It did not disappoint with fights, hookups, truces, and twists turning the house upside down in Phuket, Thailand. Teams are playing for $125K each if they finish in first place, with second place taking $35K and third going home with $15K. That should be enough money for them to deal with the madness over the next several weeks, right?

The teams are:
Anastasia and Jessica
Aneesa and Diem
Camila and Jemmye
Naomi and Cooke
Emily and Paula
Jasmine and Theresa
Jonna and Nany
Sarah and Trishelle
CT and Wes
Derek and Robb
Frank and Johnny
Jordan and Marlon
Knight and Preston
Leroy and Ty
Trey and Zach
Dunbar and Tyrie
During the first night in the house, Marlon and CT almost get into a fight for no reason other than they've both had a bit too much to drink. Anastasia is smitten with CT (no surprise, rookie girls usually are) and he works to win back his ex, Diem. He knows exactly how to get to her, which is to make her feel beautiful despite her insecurities surrounding her cancer treatment. As much as we'd all like to see them make it work, CT always tends to prove why it can't.

In the first challenge of the season, one team member hangs 30 feet above the water while the other jumps off a platform into their arms and hangs on for 15 seconds. Each round, the distance between them increases, making it a lot tougher to stick that landing. The girls go first, with the guys predicting a 60% drop in the first round. Much to their surprise, every girl stays up but that quickly changes as the distances increases. Paul and Emily take the win for the girls, and when it's the guys' turn, Zach and Trey put aside their differences, hug it out above the water, and claim their first victory.

Each week, either the guys or the girls will be up for elimination and this week, it's the guys on the chopping block. Tyrie (no surprise) and Dunbar were the first to fall so they're definitely headed into The Jungle. The second team will be voted in, so CT makes a play to get everyone to vote for Johnny and Frank, which quickly backfires. No one seems in any hurry to get rid of the Challenge vet and last season's winner, so CT definitely misfired and did so way too early.

When it's time for the public vote, most of the girls call out Derek and Robb to go in against Dunbar and Tyrie. It's a little surprising since Derek has done a few seasons and there are smarter teams to try to get rid of. TJ Lavin then drops the bomb that only the girls' votes will count. Yep, the guys will vote the girls in and the girls will vote the guys in. Well that just changes everything, doesn't it?! Cue CT hooking up with Anastasia to start winning over the females one by one... somehow, I have a feeling this plan is going to backfire even worse than his attempt to get rid of Johnny and Frank.

Naomi gets a disturbing phone call from home, and finds out that her father only has days to weeks to live after suffering heart failure. She wrestles with leaving but her partner Cooke, of course, tells her that she needs to go. At The Jungle, TJ lets Cooke know that she won't have to go home as well because a new partner is arriving shortly.
In the elimination round, two players are on defense and two players are on offense. The point of the game is to try to get past the other team and ring a bell. Derek uses his speed to fly by Dunbar in the first round. In the second round, Tyrie tries to stop Derek so Dunbar can ring the bell, but he actually misses it when he reaches for it. Derek rings in, and he and Robb live to see another day. It seems very clear that Tyrie is just not meant to do well in these Challenges but he puts all the blame on Dunbar.
The remaining teams head out for a night at the clubs, and CT and Diem get back to flirting and snuggling up together. Everyone there knows that this can only end badly... well, everyone except them.
The Challenge airs Wednesdays at 10/9c on MTV.
(Image courtesy of MTV)

Follow Gina @ginascarpa