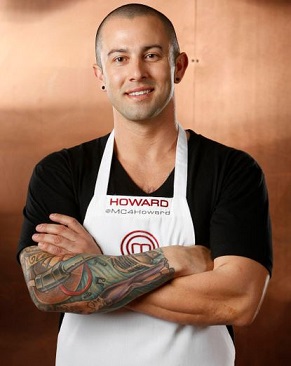 by Gina Scarpa
Last week on MasterChef, the mystery box challenge was one for the books, filled with everything from eel to elk. As the winner, Eddie chose a pasta dish for the elimination challenge and the group received a cooking lesson from Joe Bastianich's mother, Lidia. Howard's decision to use cumin in his dish factored into him landing into the bottom two, and he was ultimately eliminated. We caught up with Howard to find out about his time on MasterChef and where he wants to take his cooking career from here.
Q. Gina, RealityWanted: What made you want to bring your cooking skills to MasterChef?
A. Howard: I wanted to prove to myself and America that anyone with a passion can succeed. A lot of the country has bad images of combat veterans. They think we are all crazy, have PTSD, aren't normal, and that's not true! I am a true American, and I am striving for my goal to achieve the ultimate American dream.

Q. Gina, RealityWanted: Did you find Joe or Gordon more intimidating? Why?
A. Howard: I find Chef Ramsay more intimidating. He is so passionate about the culinary arts. I have idolized him since I began to cook and he was a huge mentor for me on the show. I respect Gordon so much. That's why, at times, I kept my mouth shut when I was getting chewed out on the show. I respect his opinion.
Q. Gina, RealityWanted: Last week's mystery box challenge was crazy! What did you think when you opened it and saw things like baby eels and ground moss?
A. Howard: I was surprised, but I was thought it was really fun. Being able to have to taste different items and come up with a dish on the fly was fun. It was difficult, but I had a lot of fun during that challenge.
Q. Gina, RealityWanted: When Eddie had the ability to pull two people out of Lidia's cooking class and didn't choose you, did you feel like James or Lynn would definitely be headed home?
A. Howard: No, I didn't think they would go home. I knew I was on the chopping block. Other chefs had worse dishes than I did. Beth's water didn't even boil! They knew my time was when we presented our pasta. My head wasn't in the game anymore, so taking the mixer away definitely put a wrench in the game, but I had a feeling I was up next to head home.
Q. Gina, RealityWanted: Why did you decide to use cumin in an Italian dish?
A. Howard: I decided to use the demonstration as an example. I added my own flair to the pasta dish. I never cook pasta, I don't plan on cooking pasta in the future, and I wanted to do something new and innovative, something different. The seasoning was amazing and the filling was great. They just didn't like it in the pasta.
Q. Gina, RealityWanted: Did your elimination catch you off guard and was it a tough pill to swallow after you left?
A. Howard: No, I chose to take off my apron. I knew it was my time to go and my head wasn't in the game anymore. I had a fun run. Out of 30,000 applicants, I made it to number 15. That's an accomplishment and I applaud myself for that.

Q. Gina, RealityWanted: What do you plan to do with your cooking from here?
A. Howard: I cook for fun. I love the culinary world but I am not a front of the house guy. I am currently studying at the Art Institute of California - Orange County. I am studying hospitality food and beverage management. I work as the Resort at Pelican Hill in Newport Beach and I hope to get a management role after graduating in 2015. I'll continue to cook, but on a personal level.

MasterChef airs Wednesdays at 8/7c on FOX.
(Image courtesy of FOX)

Follow Gina @ginascarpa