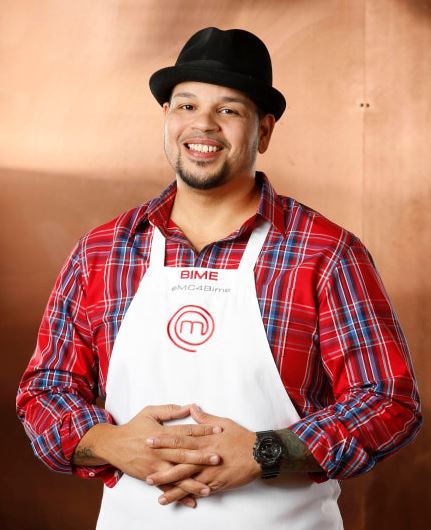 by Gina Scarpa
This week, MasterChef went Hollywood as the remaining 14 contestants headed to the set of Glee for their next challenge. The chefs were split into two teams and had to cook three dishes without knowing how many of each dish would be ordered. When Bime's blue team ended up on the losing side, he went up against Jordan and James for elimination. They had to make a lemon meringue pie, without any lemons, and Bime's liquid mess got him sent home. We chatted with Bime today about his time on MasterChef and his disappointing exit from the competition.
Q. Gina, RealityWanted: What prompted you to try out for MasterChef this season?
A. Bime: My daughters were the ones to get me to try out. We watched last season's finale and at the end of the show, the announcement came up saying "If you think you have what it takes to be the next MasterChef, audition at these locations". Boston was one of the locations and my daughters were like, "Daddy, you can cook and you could win!" I just laughed it off, but I went to bed that night thinking about it. When I woke up, I decided to pre-register online. Next thing you know, after a grueling process, I'm in L.A. missing my girls, trying to win it for them.
Q. Gina, RealityWanted: Which chef did you view as your biggest competition?
A. Bime: As far as competition, I was only worried about what I put on a plate. I was not in it to play the game. I was in it to cook and get better as a chef. That being said, Lynn was the chef I respected the most. Therefore, I guess he was my biggest competition. His extensive culinary knowledge and his execution of techniques on a plate are amazing. I learned a lot from him and I hope he goes all the way.
Q. Gina, RealityWanted: What do you think was the biggest issue on the blue team during this week's team challenge on the set of Glee?
A. Bime: At first, I thought it was my fried chicken, seeing that we were short some chicken and some were put out raw even after I told them it wasn't ready. The chicken could've been done sooner but Krissi wanted to put it in a salt water brine and that cost us 20 minutes. After hearing the results of the voting, I would have to say hands down it was the salmon. When you only get 2 votes out of 54, that says a lot.
Q. Gina, RealityWanted: What went through your mind when Gordon was about to inspect and taste your lemon meringue pie, with elimination on the line?
A. Bime: I was like, "Yup, I'm going home." Ugh, cream of tartar!
Q. Gina, RealityWanted: You did very well this season so was it tough to deal with when you were sent home?
A. Bime: I was definitely upset when I went home. Every week I was getting more and more confident as a chef. I made one big mistake and it cost me the competition. Although it was just one mistake, it was done at the worst possible time. I definitely deserved to go for that so I was upset, but I understood.
Q. Gina, RealityWanted: Which dish, throughout the course of the season, stands out in your mind as your best?
A. Bime: I think the cupcakes stand out the most. For one, those cupcakes made me team captain and two, being able to pull that off when baking is not my biggest strength in the kitchen, felt great. That was the dish on the show that was inspired the most by my daughters. I thought of them the whole time making those cupcakes. From the frosting to the batter, everything was all them.
Q. Gina, RealityWanted: What's next for you?
A. Bime: My passion for cooking is alive in me one hundred times more now! I want to continue to get better as a chef. I still got a lot to learn, and I always will. The mark of a true MasterChef is his or her desire to always learn and get better as a chef. I'd love my own cooking show were every week I learn something new and share it with the audience. I want to work in a commercial kitchen, cater parties etc.. pretty much anything with food I'm in, so look out for me. Meanwhile I'm going to do some cooking in between time and continue to put a smile on people faces when they taste my food.

MasterChef airs Wednesdays at 8/7c on FOX.
(Image courtesy of FOX)

Follow Gina @ginascarpa