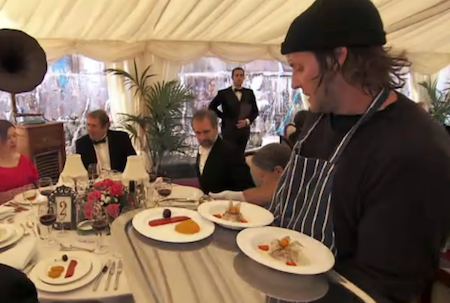 by Gina Scarpa
The 11th and final leg of The Amazing Race is underway in Scotland, with Max and Katie leading the charge towards the finish line. Teams are headed to Belfast, Northern Ireland to get their next clue but they'll all be going together since the ferry leaves in the morning. Max can't help but rub it in Mona's face that they weren't ahead of the other teams on the last leg, like they thought. I wouldn't throw around that bravado just yet, Max. There's still more race to run before that finish line.
The race gets right down to it with a Road Block, where one team members has to bog snorkel. Yes, that's a thing. It's not hard to do, just dirty and perhaps a little tiring. Anthony finishes first, and he and Bates head back into Belfast to find "The Thing With A Ring", otherwise known as the Beacon of Hope sculpture. Behind them are Max and Katie, and Mona and Beth, with Caroline and Jen bringing up the rear. Not helping matters for the country girls is the fact that Jen couldn't complete bog snorkeling under the 4 minute limit and was forced to do it again. The second time around, Jen gives up halfway through, saying she can't breathe and can't go back into the muddy water.
Meanwhile, Bates and Anthony get stuck in traffic, leaving an opening for Max and Katie to reach the Detour first. In Tray It, teams have to serve fish dishes to diners that was served on the Titanic. In Spray It, teams have to finish one side of graffiti art at a skate park. Not feeling comfortable with the art, the teams go for Tray It, but it's no easy task. The menu proves to be confusing, the dishes aren't labeled, and when mistakes are made, it's a LONG way back to the kitchen. Max and Katie fly through the task, while Caroline and Jen finish the Detour but wander aimlessly around Belfast looking for the sculpture. I should point out that it would help if they knew they were looking for a sculpture.
The pit stop for this leg is at Ulster Hall and teams arrive in the following order:
1. Max and Katie (win a trip to the Dominican Republic)
2. Bates and Anthony
3. Mona and Beth
4. Caroline and Jen
After Mona and Beth shed tears for making it into the final leg, Caroline and Jen hold theirs back as we say goodbye to the country singers. On to the final leg!!
Teams take a ferry across the Irish Sea to Liverpool, and then travel to a London pub, where they order a pint to receive their next clue. As a group, they find out they're heading to Washington D.C. and will find their next clue on the steps of the Lincoln Memorial. They're headed to 1100 Pennsylvania Avenue, and will be escorted by the Secret Service to take a picture with the president - WHAT?! Oh wait, it's a computerized picture and he's not really there. Lame.
Teams head to The Tidal Basin to receive a briefcase with a clue for a Switchback Detour. One team member uses a secret phrase to find an agent (in a sea of 50) that has a clue in their briefcase for them. Not helping matters is the fact that the agents are wandering around, and you can easily lose track of who you've talked to. Bates tracks down his briefcase first, and gets a clue that leads him and Anthony to National Stadium. They'll probably hoping it's the finish line, but not quite yet!
At the stadium, one team member dresses up in a mascot uniform and one flies through the air on a zip line and must drop a baseball to their partner. If they miss, they'll have to go back and try, try again. I love a good mascot! Bates and Anthony get through it pretty quickly and take off for Hains Point, and Max and Katie strap in to get started, and Mona and Beth arrive at the stadium.
At Hains Point, teams search through hundreds of globes for ones with marked countries. After they put those marked globes in the correct order, representing the countries they visits, it's finally on to the finish line!  Anthony starts to find them in the giant ball pit, but looking for a specific country towards the end is extremely difficult.  Still, they're able to do it before Max and Katie even arrive, and race as fast as possible to the home of the first president, aka Mount Vernon, to reach Phil and the previously eliminated teams at the finish line.
Bates and Anthony cross first, winning the million, with Max and Katie finishing in second place and Mona and Beth finishing third.  Did your favorite team win?
Don't miss our interviews with the final four teams of The Amazing Race this week on RealityWanted!
(Image courtesy of CBS)

Follow Gina @ginascarpa