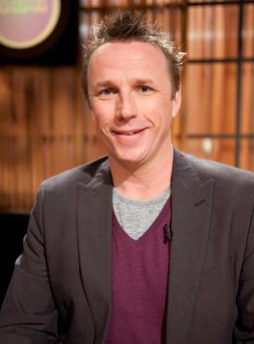 by Gina Scarpa
As if Food Network's Chopped isn't entertaining enough to watch, it's time for an All Stars edition. Favorites from both Food Network and Cooking Channel are battling it out on Sunday nights to make the finale and ultimately, win $50,000 for their favorite charity. This week, the judges from Chopped will have the tables turned and compete against each other to move forward in the competition. Marc Murphy, who talked to us today about the upcoming episode, will compete against Alex Guarnaschelli, Amanda Freitag, and Scott Conant. Who will reign supreme? You'll have to tune in to find out!
Q. Gina, RealityWanted: How will your experience as a judge on Chopped make you fierce competitor on Chopped: All-Stars?
A. Marc: Being a judge on Chopped, you log a lot of hours in the kitchen and you see a lot of competitors who get nervous and crack under pressure. Having the experience of knowing how the challenge works and understanding that the most important factor is time will really help when I'm competing. Knowing what to expect gives me an insider's advantage and I plan on using that to my benefit.
Q. Gina, RealityWanted: Because of the level of chefs competing in All-Stars, do you think the bar will be raised in terms of challenges?
A. Marc: Absolutely! All of the All-Star chefs are amazing and have some serious experience competing under pressure. That is by far one of the best assets to have in the Chopped kitchen and I think the baskets will reflect it.
Q. Gina, RealityWanted: Any teasers or predictions about the season?
A. Marc: My lips are sealed! You're going to have to watch to find out.
Be sure to visit foodnetwork.com/chopped and check out the new webseries, Chopped: After Hours, premiering April 30th. Fans will get a behind-the-scenes glimpse into the challenges that aired on the show that week and see how the judges would handle the pressure in the kitchen.
Chopped: All Stars airs Sundays at 9/8c on Food Network.
(Image courtesy of Food Network)
Follow Gina @ginascarpa