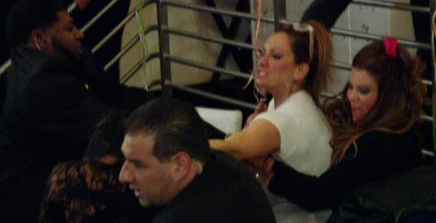 by Jessica Blackwell
In an episode appositely titled Love Hurts, the long awaited Carla/Love confrontation finally happened! Here's how it all went down: 
Drita decided to let Joe come home when leaves the halfway house, so she was mentally preparing herself for his arrival. She knows that they've been through enough drama to kill two marriages, but she's willing to try again. It's cute to see her so excited, but I'm worried for her children. What if they get used to having their Dad home and then he goes back to jail, or their relationship doesn't work out?
The ladies pulled on their leopard tights, puffed up their hair, and headed to Drita's 80's themed birthday party. Love had a broken hand so she wasn't expected to attend but she came anyway. The crazy b**** punched a steel beam because she was angry and thought it was better than hitting someone. SMH! 
Everyone was hoping that since Love was in a rare good mood, she would leave Carla alone. Yea right! This is the woman that has been describing various ways to murder Carla over the past month, and they thought she was going to leave her alone?  They all  knew what was going to happen, but they still let Love out of her cage and Carla paid dearly for it. 
Karen thought it would be a good idea to for Love to sit down and talk to Carla. For a minute, it seemed they might at least have a civil conversation before they physically fought, but then Love reached over and yanked Carla's hair as soon as they sat down. The fight was quickly broken up by the hefty security detail, and Carla was swinging at everyone. She clearly didn't know who to trust, because she felt like she had been set up. 
Karen was pissed because Love promised to talk with Carla and hit her instead. I'm not saying Karen set her up, but I did notice that her story changed after the fight. Karen said that Love asked to speak to Carla, but Karen urged her to. Love swears the reason why she just snapped is because Carla questioned why Karen had to be there. Umm actually when Love sat down, she said "Karen is here so I don't bash your head in". It's obvious that her issue with Carla was irrational and she just wanted to fight her. I really think she's just pissed that Carla is dating her ex, and that was very clear by what went down at the party. It's not about a logo, Joe knew that his father drew the angel wings himself and don't all angel wings look the same????
The news just broke that Love will not be returning next season and that she wasn't invited to the reunion. That's surprising to me because usually they keep the girl around that is involved in the most drama and Love certainly dished out her fair share this season. Next season, I think we'll see Karen working on her father's case, Drita adjusting to life with Lee, Renee adjusting to life without A.J, and Carla getting officially divorced. Next up is the reunion - stay tuned! 
Mob Wives airs Sundays at 8/7c on VH-1. 
(Image courtesy of VH-1)