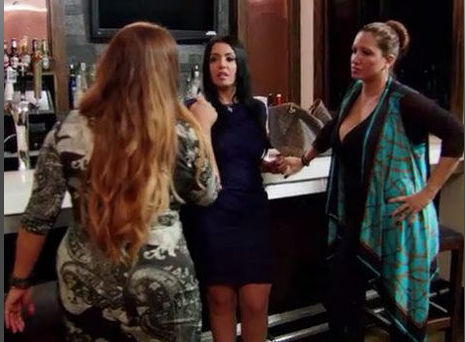 by Jessica Blackwell
As what I feel was a dig at Ramona, Karen decided to have a pre-nup party where her guests learned how to protect themselves from financial ruin should they get divorced.  Since she was the only one who was engaged to be married, Ramona felt it was a dig at her too. Karen swore that she was just throwing the party for information, but it flopped anyway. Renee got up and reminded everyone that the type of guys that they deal with, deal with cash so they didn't need to be talking about anything legal anyway. End of party! 
Ramona was deep in her wedding plans and found a guy that could make a wedding happen on a moment's notice, you know since her husband-to-be is awaiting bail and all. Her daughter Anissa didn't think she should be marrying someone who was in jail, and get this, Ramona dismissed it as her being confused.  Clearly, it's really her who's disillusioned and confused! It's sad when your pre-teen has more sense than you.
Since Ramona was busy planning her wedding, she forgot to tell a few people about her upcoming nuptials, including Love, who she's been friends with for over 20 years. Love was hurt that Ramona didn't tell her about the engagement, so when she arrived at the pre-nup party, she told Ramona how she felt. It seemed to be going ok until Karen walked over to the conversation, and she and Ramona got into it.
There was still some unresolved tension from their beef about Ramona's stupidity and Karen maintained that she simply wanted what was best for Ramona. When Ramona started yelling, Karen was like Whoaa homie, direct your anger back at Love! Some poor unsuspecting friend of Ramona's thought she was going to stand tough and make sure Ramona wasn't being messed with. When Love saw her, she went crazy and threatened to stab her to death. Ummm.. I know Love is crazy and all, but making death threats on camera aren't cool. The frightened woman scurried home and the ladies were left to deal with each other in peace.
Of course, Carla didn't attend the party, because she didn't want to be around Love's crazy a**, but round 50 of Carla vs.Love without them ever laying eyes on each other began. Carla told Ange that Love was so upset that Carla's boyfriend didn't want to deal with her anymore that she started acting crazy. Then when she found out that he was seeing Carla, she went to his ex-wife's house and informed her of this, conveniently leaving out the part that up until recently, she had been sleeping with him too. At this point, there are so many lies going back and forth, no one knows what's really going on. Also, when Carla was talking to Ange, she was served divorce papers. Finally!
Renee's son AJ had some big news for her! As she was planning to restrict his tattoos, he was planning to move out the house and out of the state! It's probably something he wanted to do for a while, but waited until she was far enough in her recovery process to do it. Renee quickly went through some grief stages upon hearing the news: denial, guilt and acceptance. In the end, she knew she couldn't stop him and would have to let her baby go. Such a tear jerking scene! 
It looks like we don't have to wait much longer for the Carla/Love showdown because it's Drita's birthday party next episode! If you didn't catch the previews, a sneaky Love asks to speak to Carla and then proceeds to grab her as soon as she was within reach. This is going to be one crazy fight! Stay tuned!
Mob Wives airs Sundays at 8/7c on VH-1. 
(Image courtesy of VH-1)