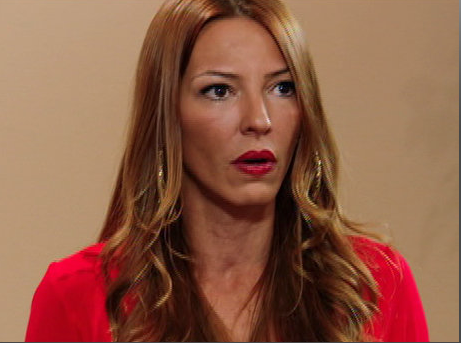 by Jessica Blackwell
We may have discovered why Love is so crazy! She literally may have a few screws loose from being in a pretty bad car accident she was in. I'm pretty sure she acted that way before, but it maybe we have to excuse her from future behavior. Anyways....
Karen tied up all her loose ends so she and Ramona left Arizona to return to Staten Island. She had a lot of work ahead of her since she was determined to get her Dad out of jail, but she still took time to play. Since she and Storm were seeing each other, she used Love's birthday as an opportunity to introduce him to her friends. Everyone liked him, and even thought he was similar to Karen in his demeanor. 
Ramona moved on with her wedding plans despite protests from her friends and family. Since her fiancé can get bail at a moment's notice she tried to get all the details hashed out because he will only be out for a limited time. I don't know why such a beautiful girl limits herself so much in life. I'm sure there is a great, normal guy out there who would love to step up and be the man that she needs. 
Drita felt it was her place to let Carla know that Love had an issue with her. It's about time, their beef has been going on too long for Carla not to know about it (or pretend not to know about it). Despite the hatred that Love has for her, Carla tried to act like she didn't even know who Love was and refused to be concerned about the growing drama. Meanwhile, Love dropped her version of events on Drita, telling her some bizarre story about stolen business logos and tattoos and maintained that Carla talks crap about her.  Apparently, Love has a trademark for her company that was that was drawn by her ex and tattooed on her wrist and Carla's ex stole the design and used it for his spa. Honestly, they just looked like regular wings on her wrist. Isn't it possible that all angel wings just look similar? When Drita tried to warn Carla again, she mentioned the logo story to her and Carla went nuts. Someone is lying here and I don't know who it is. I guess we'll find out soon enough, but I hope Drita has the good sense to stay out of it in the meantime. 
Renee decided to try and parlay her love of shoes into a business by working on a new line called Mob Candy. She teamed up with her friend Jiton, who owns a shoe store, to launch the line. When they showed the prototypes for the shoes, they had an original flair to them. Renee even came up with an idea for one pair of shoes to have three different heels that screw on! I hope she's successful, this venture could be really good for her recovery. 
Next week Love goes insane a seemingly innocent person, but no sign of she and Carla meeting face to face. Stay tuned! 
Mob Wives airs Sundays at 8/7c on VH-1. 
(Image courtesy of VH-1)