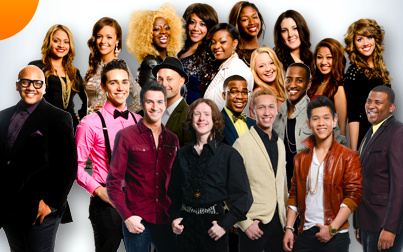 by Kylene Hamulak
It's a big night for American Idol as the results of this season's first voting rounds are announced. In a switch from recent seasons, this week will (supposedly) give us our Top 10 (supposedly), which also means tonight decides who will be touring the nation this summer! (Note: I say "supposedly" because I don't trust Idol not to throw in a wild card or something CRAZY! to broaden the field.)
Here's how the night works: Ryan visits the contestants backstage, announcing the Top 10 one by one. As each name is announced, the Idol makes his or her way to the stage to perform a victory song...and then we all decide whether or not we've just made a huge mistake. Let's get on with it, shall we?
TOP FIVE GUYS:
Paul Jolley, "Alone" by Heart
Paul is announced as the first contestant through, and already I fear this is gonna be a rough night. I'm not totally surprised - remember, I thought he might be a wild card to take one of the top five guy spots based on what I like to call the Rogue Jonas factor - but I would've preferred one of the more definite guys to start the show. Keith thinks this performance is better than last night, but I'm not that impressed. Congratulations, Paul - something tells me you've just become the pet Idol of Clay Aiken's legion.
Burnell Taylor, "Ready for Love" by India Arie
The second contestant declared safe, Burnell's performance is a celebration. He sounds great - I'm really glad he's made it through, and hope he continues to grow. He's got such a great story and seems to have a great attitude - the kind of Idol story that's exciting to watch.
Curtis Finch, Jr., "So High" by John Legend.
Randy's reaction to Curtis: "SO big props, SO congrats for you, GOOD LUCK. SO happy. SO happy." SO WHAT, RANDY? Look, Curtis deserves his spot in the Top 10 but I'm not sure he's deserving of the judge worship he will undoubtedly continue to receive.
Devin Velez, ""The Power of One" by Israel Houghton
Devin reportedly won his ticket at the American Idol Experience in Disney World, so now that he's made it to the Top 10, I'm gonna have to go review the last dozen or so trips I've taken to see if I voted for him at some point. Except for a sour note towards the end, he sounds great tonight - this is probably my favorite of his performances. If he continues to get more comfortable as the weeks go by, he'll be around awhile. Hint to his mom, however: stay off the stage. The schtick will get old real quick. Especially if you don't put your shoes on.
Lazaro Arbos, "Bridge Over Troubled Water" by Simon and Garfunkel
Imma let you finish, Lazaro, but everyone knows that Clay Aiken had the best Idol performance of this of ALL time. He does a decent job with it, but it's not about the voice right now for Lazaro - it's about the story and the spirit. Eventually, that won't be enough to carry him, but for now? It's kind of all I need to root for him. Well, that and watching Ryan have awkward conversations with him.
TOP FIVE LADIES:
Janelle Arthur, "Home" by Dierks Bentley
"Third time is the charm," says Ryan as he walks her to the stage.  False, Ryan - Janelle, herself, is the charm. She's adorable, and it's great to see her perform with a huge smile. Nicki thinks this is the best she's ever looked and sounded, and predicts that Janelle will be a huge country star. I tend to agree - I'm not a country fan, but the genre is gonna gobble this lil' marshmallow right up. In a good way.
Candice Glover, "I'm Going Down" by Mary J. Blige
I've made no secret of being a big Candice fan, and her victory dance makes me love her even more. She gets a standing ovation from EVERYONE as she enters, taking a few deep breaths to try to believe it. Her voice is amazing, and she just seems so AWESOME. I wanna be her friend.
Angie Miller, "I Was Here" by Beyonce
"I don't think the judges are surprised," notes Ryan. "I think they saw this coming." Astute observation, Ryan! All of AMERICA saw this coming, and it's well deserved. Her performance could be a preview of the finale - not because she sounds perfect, but because you can read the disbelief in her face and see the gratitude in her welled up eyes. Even Keith is crying by the end - "All you needed, baby, was a break. That's all you needed. A chance for America to listen to you and know who you are."
Amber Holcomb, "I'm Every Woman" by Whitney Houston
Amber takes Whitney on for the second night in a row, and for the second night in a row, she does it well! This girl is SO excited, it's infectious. Mariah tells her, "I feel like you have everything that is everything, and I just feel so happy that people voted for you."
Kree Harrison, "Evidence" by Susan Tedeschi
The final name announced for the Top 10, Kree is another one who gets an excited standing ovation from everyone in the crowd. She begins her victory song by saying, "Let's have some fun y'all, I'm so relieved right now!" What's there to say about Kree? She's terrific, and again I give it the old turned-head trick - I look away from the tv, and she still has a voice that could compete with Carrie Underwood on my radio. Really glad to see her make it!
HIGHLIGHTS:
Almost Home: It's not just what half the contestants are - it's also the name of Mariah Carey's new song! It accompanies a montage of clips from the finalists' journey to the Top 20. And this, ladies and gentlemen, ushers in Season 12 of shameless self-promotion!
Backstage Pass: It's sort of cheesy, but I enjoyed the big reveals tonight. Those final seconds each contestant shared with Ryan just before the door opened felt authentic, and it was just such a moment for every one of them. Suspenseful? Of course not. But still genuine on the contestant end.
The Twist: Apparently, we're in for a "sing off" next week, which will give one more contestant a shot at the tour. More details to come later. I yawn at this latest SURPRISE! development.
Final Thoughts: Overall, I'm very happy with our Top 10. Paul was the biggest "surprise", and even he was somewhat predictable based on the rest of the group. Not only did talent win out, but (so far at least) we seem to have a personality pool that meshes well. Of course, they could all just be in an Idol haze right now, so maybe we need to wait for the competition to REALLY kick into gear for the true nature of our Top 10 to have its own big reveal. The girls do seem stronger than the guys, and I could see at least three of them making it to the top five.
Catch American Idol every Wednesday and Thursday at 8/7C on Fox!
(Images courtesy of Fox)
Follow Kylene on Twitter @keepingupwithky!