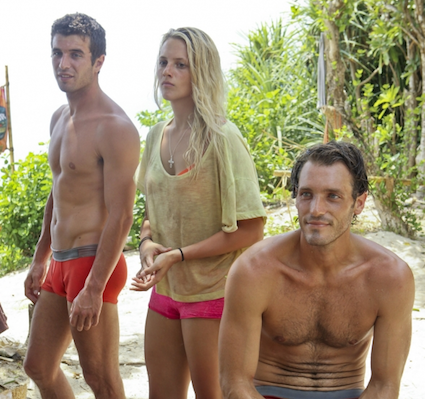 by Gina Scarpa
Let it be known that Brandon is not happy with the decision to vote Francesca out first on Survivor: Caramoan. She was the first to go on Redemption Island and Brandon thinks it's heartless for the tribe to send her packing yet again, only three days into the game. Fair enough, but why are you waging war on Dawn and saying you're going to go down in a blaze of glory? Nobody is even looking at you yet! Brandon goes on a tirade to Erik, promising to go all "Russell Hantz" on everybody but I have a feeling Uncle Russell won't be impressed.
While Brandon works hard to be the odd man out on the Bikal tribe, Shamar is doing the same over at Gota. He spends most of his day just lying in the shelter, refusing to expound any energy. On the one hand, I can understand if your goal is to win challenges but you gotta give the people a little something to show you care. On the other, this guy has done two tours in Iraq, and I'm fairly certain he wasn't lounging 19 hours a day. I expect more from this guy, who I originally was hoping would be like Survivor: China's James... just not as dumb.
In the immunity challenge, players dive down into the ocean to release rings, then must be pulled back to shore on a raft by another tribe member. Once all the rings are back, the tribe has to land three on poles to not only be safe from tribal but win, you guessed it, fishing gear! These early rewards are much too predictable. The fans are absolutely dreadful in the water, while Andrea, Erik, and Brenda retrieve those rings with a quickness. Reynold tries to give Malcolm a run for his money again in the end with the ring toss, but it's Special Agent Phillip Shepherd who wins it for Bikal. As if he wasn't feeling like he ran things enough, this definitely blew up his ego another level!
Back at Gota, Matt is shockingly thinking of siding with the foursome of Reynold, Allie, Eddie, and Allie. You don't ever go into a foursome as the fifth wheel. Ever. Speaking of Reynold, he managed to find the idol without a clue, which was impressive. Not impressive was when he tried to stuff it into his already too tight pants, causing Laura to take notice. Alright, Laura! Look at you, coming to play Survivor! As for Matt and Reynold, are you guys actually fans? Because you're both making moves right now that will end your game even before the merge.
At tribal council, Shamar admits that the reason some people don't like him is because he's big and loud but he doesn't seem too concerned with going home. The foursome outright admit that they ARE a foursome who not only like hanging out all day every day, but don't even sleep in the shelter with the others some or most nights. When Laura points out the bulge in Reynold's pocket, the deal is sealed with the majority of Gota. Allie takes the fall because they don't want to part with a strong guy just yet but you should know better than to pair up in this game, especially so early on and SO blatantly!
Survivor: Caramoan airs Wednesdays at 8/7c on CBS.
(Image courtesy of CBS)
Follow Gina @ginascarpa