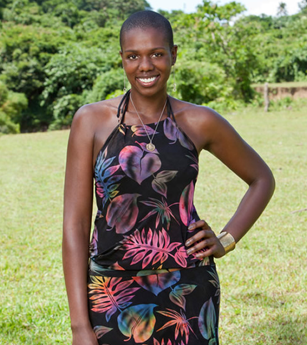 by Gina Scarpa
Well, perhaps the only thing worse than being voted out of Survivor first is to have it happen to you twice! On Survivor: Redemption Island, Francesca made a play for Boston Rob and found herself the first voted out. When she returned for Survivor: Caramoan, she came face to face with her old rival, Phillip Shepherd. She made a play to get him out first after her tribe lost the first elimination challenge, but it came back to bite her. We talked to Francesca today in an exclusive interview about being brought back to play a second time, and unleashes on the members of her Bikal tribe.
Q. Gina, RealityWanted: Considering you went out first in your season of Survivor, what was your reaction when you got the call for the second round of Fans vs. Favorites?
A. Francesca: Well, when I first got the call, I figured there were people who were sad that I went out early my first season. I was sure they'd never cast me, that would be crazy! I didn't even think I needed to worry about it.
Q. Gina, RealityWanted: Of all the players that went out first through the years on Survivor, you really seemed to strike a chord with fans. Why do you think that was?
A. Francesca: I mean, I don't know. It's hard for me to say. No one is more surprised than I am that I got another chance to play this game. I think I was the voice of reason and maybe more so than first people out tend to be. I've had people who come up to me and they think that they know me. They think that we've met and when I tell them my name, they're like, "Yes, we've met!" Then, when they realize what it is, that I'm from Survivor, they just say that they related to me so much that they feel like they knew me.
Q. Gina, RealityWanted: We all know who you were not excited to see in the game, but who were you looking forward to playing with this season?
A. Francesca: I was friends with Cochran in real life so I was happy about playing with him. That obviously didn't work out very well. I had never met Corinne, but I thought she was funny. I knew Dawn, Brenda, and Eric a little bit and I had liked them a lot. I was looking forward to everyone except Phillip.
Q. Gina, RealityWanted: Speaking of Cochran, he suffered a nasty sunburn in that first episode. Was the sun and heat really as bad as it seemed?
A. Francesca: You know what? We had a boat ride from our first challenge to our beach and he just got fried. I'm not sure how much of it was shown but he was incapacitated for a couple of days. He is very allergic to the sun! If he was ever stranded on a tropical island, he would die in four days!
Q. Gina, RealityWanted: When you put the fans up against the favorites, how do you think they match up?
A. Francesca: Well, I think the first challenge, I felt like we really dominated them. The second challenge, it was just one of those things where I don't know how we lost it. I thought they seemed to be, overall, like a pretty fit bunch. I thought the fans were a good match.
Q. Gina, RealityWanted: Obviously, your name was thrown around after your tribe lost the elimination challenge, along with Andrea and Phillip. Who would you have wanted to see go home first?
A. Francesca: I would've gotten rid of Phillip first and it's not a vendetta. He's horribly annoying. Why live with someone who's horribly annoying, not good in challenges, completely delusional... he's an easy vote. No one enjoys his company. I was really sad that we lost and I wasn't enjoying the possibility of voting anyone out. I know Andrea outside of the show and she does not have the best reputation in the circle of Survivor people. Nothing to do with the game, just in real life. Cochran is one of the biggest critics of Andrea. I've spent many hours talking to him about what a horrible, untrustworthy, manipulative person she is. I wasn't immediately going to go after her, because she wasn't a threat to me.
Q. Gina, RealityWanted: It got very close in the votes and Andrea looked truly worried. Did you know that it was you, though, that was leaving?
A. Francesca: At that point, I knew it was a distinct possibility. Going into tribal council, I never thought that Cochran would side with Andrea over me, given our real life relationship. It was pretty clear, he wouldn't look at me, so I wasn't too surprised.
Q. Gina, RealityWanted: You talked about the relationships you have with people outside of the game, like Cochran. Was it hard to separate the people you know in your real life from how they played the game?
A. Francesca: Yeah, it's funny. Yeah, it is. Like I said, Cochran is someone I consider to be a friend of mine. We've spent a lot of time together, he's been to my house, we talk on the phone so I didn't think he was someone I needed to worry about on day 3 of the game. I had a different expectation. It hurt me.
Q. Gina, RealityWanted: If the Survivor gods granted you a third chance in the game...
A. Francesca: I absolutely would not ever play Survivor again, absolutely would not! Look, I'm very honored I got to play twice. I know a lot of people would kill for that opportunity but for me, I'd much rather focus on real life and the things that really matter. Survivor is a game and it's just a footnote in my life story.

Survivor: Caramoan airs Wednesdays at 8/7c on CBS.
(Image courtesy of CBS)

Follow Gina @ginascarpa