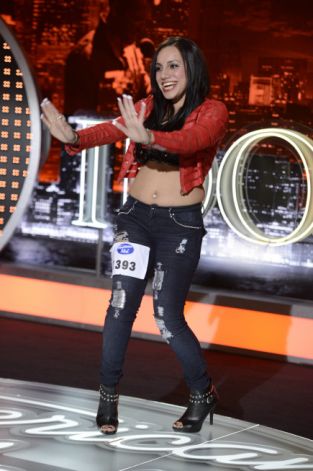 by Kylene Hamulak
Home stretch, everyone! In our final week of American Idol auditions for the season, we're hitting two cities in one episode - San Antonio and Long Beach. The fireworks between the judges have seemed to calm down, replaced by contestant sob stories, so let's see what characters Idol gives us this week!
Check out the Hits, Misses, and Highlights from Texas and The Queen Mary!
HITS:
Savannah Votion, 24
She's introduced to us as a struggling single mom who is excited about having her dream come true. I'm excited about her finally having enough money to buy a shirt that covers her middrift. But seriously folks, she's got a terrific voice with a smokey quality, and Keith says he can hear a lot of "life" in her. We'll see you in Hollywood.
Cristabel Clack, 29
Cristabel is a worship leader and a mom to three adorable kids, one of whom looks like Cousin Olivia from the Cosby Show. Even before she begins singing an Alicia Keys song, her style reminds me of her - and so does her voice. "To me, it's obvious that you're a real singer - you just sang how you felt it. I know you, I get you, I love you," says Mariah.
Ann Difani, 23
Ann's husband arranged her Idol Ambush at a University of Arkansas football game, and I hate them for being the All-American couple. When Nicki says she thinks it's cute that her husband nominated her and asks if she's ready to spend months away from him, Ann enthusiastically exclaims, "Absolutely!" Awwwwkward.... At any rate, "This Arkansan" is headed to Hollywood. (Sidenote: I just learned tonight that people from Arkansas are Arkansan.)
Sanni M'Mairura, 16
Sanni's parents are from Africa, he performs with a church group called "The Noise," and he wants to be a great performer but also a great role model. He is a talented dancer and seems to have a terrific personality. His audition is good, but honestly? It's not GREAT. "Candy canes, sunshine, strawberries, whipped cream...." Is Nicki making a grocery list? "Rainbows and sunny skies." Nope, she's just saying she liked it. I wonder if he would've benefited by waiting a year or two, but the judges are impressed enough to send him through to Hollywood.
Adam Sanders, 19
I want to admit now that I mistyped his name as "Sandler" more than once. But he's not like Adam Sandler...he is, however, closer to another Adam Idol fans know and (in some cases) love - Lambert. He's crying before even making it into the audition room, but he's here to bring the soul. Remember how Lambert brought "soul" to Idol by yelling? This guy is border line there too. It's controlled yelling for sure, but it's still...loud. Blah blah blah the judges love him, see ya in Hollywood.
Matt Farmer, 26
You want a miracle story? Not only did Matt survive an IED explosion while serving in Iraq, but after being told he could not have children due to the medication he was on for his traumatic brain injury, he found out he was going to be a dad. The cynic in me wants to go the soap opera route about how that could POSSIBLY have happened, but I won't go there. ANYWAY, even cynical ol' me can't find fault with this guy's story, his look, or, for that matter, his voice.
Briana Oakley, 16
Brianna's had a tough life. Back in 2009, she appeared on Maury Povich as one of the year's Most Talented Kids. Oh, I know - horrible. And it doesn't stop there. She was bullied at school. She ate her lunch in the bathroom. She didn't feel safe. I mean, bullying sucks, but we've had a kid with a speech impediment and a guy that got blown up and a young mom with poor fashion sense on the show tonight, so it's gonna take more than a few side eyes to win my sympathy. Randy offers to come to the school and "reg-a-late" if it happens again. Is that a threat or a promise, Mr. Jackson? Because I don't think that will help. Like, at all. Anyway, she sings, it's good (obviously - I mean, Maury prophesized this years ago!), she's going to Hollywood.
MISSES:
Derek & David Bagerott, 21 & 24
The brothers audition together, each claiming to be the better singer of the duo. I think they're an SNL skit. Like, I am almost positive the tall one is Fred Armisen and the small one is Will Forte. Almost positive. And when their harmonizing sounds like two really pissed off cats yelling at each other, it's amusing to see the judges fight to get a word in edgewise. Being honest? This skit is better than a lot of what SNL has actually been putting on the air lately.
Brian Martinez, 21
"Do you sing in a band? Or out professionally?" asks Keith. "No, I sing in the bathroom." Ah, yes. He claims a producer heard him and encouraged him to audition for American Idol specifically, so here we are. Let me tell you about his singing: I can't even identify the song. And I KNOW the song. Soooo...yeah, that's gonna be a no.
Stephanie Sanson, 16 
She's in a band called YOLO! Her hair is purple! She doesn't LOOK like an Idol! Except, like...sure ya do. In fact, you sort of remind me of Demi Lovato. So there must be something else that makes her different, right? Yeah. There is. It's her voice, which is more deathcore than typical Idol. And her jumping around, that's sort of new. And also the double middle-finger salute she gives as she exits the audition room. "I need to get my pastor on the phone," says Mariah. "Nicki would've sent her to Hollywood," notes Keith.
HIGHLIGHTS:
Best Impression of Randy: Vincent Powell, 29, walks in reminding me either of Randy or Al Roker, except he sings better than either of them. He made it to the end of Hollywood Week last year, then says he got spooked when Randy took an extra long drink. Which he demonstrates with what Randy thinks is exaggerated gestures, but honestly? I bet that's how it actually happened. The acoustics at the Sunset Station do something great with his voice, and the judges love him. We'll see if Randy brings a juice box to this guy's next audition.
Don't Judge A Book and All That: Papa Peachez, 19, works with the homeless (which is where he earned the nickname Peachez), and even though people think he's just a little blonde boy with Leonardo DiCaprio's Growing Pains haircut, he's actually a big Black woman trapped in a little boy's body. Which actually looks like an adult boy's body. Aka, a man. Anyway, he sings some sort of original composition that Nicki, apparently, thinks makes him a star. This should not surprise anyone, considering how Nicki has made herself a star. Weirdly, however, Keith calls him theatrical, Mariah calls him quirky, and Randy thinks he could actually have something. Randy and Keith lean towards no with Mariah and Nicki saying yes. Since Randy is the San Antonio tie breaker, Nicki begs him to change his vote...and Peachez is headed to Hollywood. What the hell just happened here?
Name to Remember: Randy is his typical obnoxious self when Shubha Vedula, 17, tells him her name, but I have to admit - it's catchy. It sounds like a Dr. Seuss character. I just want to keep saying it over and over. She does not, however, SING like a Dr. Seuss character. We'll get to keep saying her name in Hollywood.
Queen Mary's Revenge: Jesaiah Baer, 16, is having a great audition that seems to be intriguing the judges when lights start blinking and sirens start wailing. If I was her, I might have questioned if this happens to everyone - kind of like when you win an ice cream cone at the grocery store for spending $100? Needless to say...it doesn't happen to everyone. They briefly clear the room before returning to the audition, and the whole thing isn't quite as dramatic as Idol advertised it to be. There's a shocker. Anyway, she's good, and she's golden. Ticket, that is.
Best Fake Out (according to Randy): Micah Johnson, 24, wasn't born with the prominent speech impediment we hear as he introduces himself - it's the result of a botched tonsillectomy. His doctor hit some nerves that caused the damage. Mariah understands. She's had nerve damage too, in her arm. She's not specific about it, so I'm just gonna go ahead and assume she hit her funny bone on something. Hurts like hell, you know. Stings for, like, MINUTES. Pure joyful shock takes over Nicki's face when Micah's voice takes over the room, and Keith is compelled to duet with him. This guy? He's going to Hollywood.
The Happiest Award: I'm not sure how Rachel Hale, 21, ended up in the Long Beach auditions - she seems like the most Arkansan (tryin' out my new vocab!) of just about anyone we've seen. She talks fast and with a thick accent, and when she sings, Keith is reminded of Wynona Judd. "She has to be the happiest contestant I've ever met," says Randy. Then he gives her The Happiest Award and the judges send her to Hollywood.
Where Have I Seen This Guy Before? If you missed the auditions, you should know that Matheus Fernandes, 21, is short. That's what Idol wants you to remember. It's his thing. There's nothing wrong with him - he's just...not tall. And he was bullied and it's been hard and people suck - see above under Oakley, Briana. What Idol WON'T mention is that Matheus is a reality tv veteran of sorts, as he was a finalist on the Glee Project, where he was fairly well-received. It's not a surprise that he makes it through to Hollywood. I hope he stops saying "bro" so much.
One more night of auditions before Hollywood, everyone - have we already found our Idol? Are you bored of the backstories? Sound off in the comments below!
Catch American Idol every Wednesday and Thursday at 8/7C on Fox!
(Images courtesy of Fox)
Follow Kylene on Twitter @keepingupwithky!