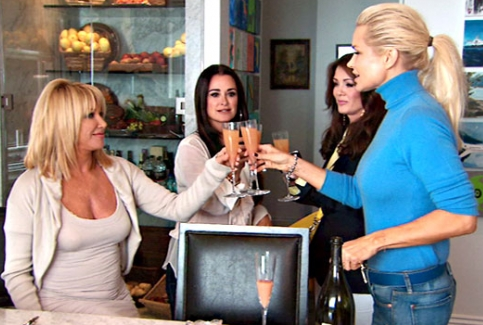 by Gina Scarpa
We learned, on The Real Housewives of Beverly Hills this week, that one of Yolanda's close friends is Suzanne Sommers. For those that didn't grow up in the late 70s/early 80s, Suzanne played Crissy Snow on Three's Company. She's also been the spokesperson for the infamous Thighmaster and still to this day promotes various ways to stay healthy. Lisa and Kyle join Yolanda and Suzanne for a little chat about staying healthy, even in their old(er) age.
Brandi prepares for her Girls Night Out event in Vegas by attending a class in stripping. She says she has bills to pay, but I'm pretty sure there are other ways besides getting on a pole. With some of the other housewives tagging along for the trip though, it could mean some nice, bonding time for them all. Lord knows Brandi needs to win some of them over still.
Kyle's daughter Sophia celebrates her 6th grade graduation, and Adrienne and Paul show up to offer their congratulations. It's not long before we start hashing out the fight with Brandi again and they honestly talk about it as much as Brandi talks about her husband leaving her for Leann Rimes, which we'll get to. Kim doesn't show up for her niece's party, seemingly too busy organizing pictures to hang up throughout her home. We also find out that she's planning on getting a nose job, after her plastic surgeon told her he didn't think she needed a face lift. You don't need a nose job either, Kim, but this is Beverly Hills, and getting work done is the norm.
It seems we're prepping Marisa to become a Real Housewife, because we check in on her packing for the trip to Vegas with a little help from her mom. She's been at more and more events, we're learning about her backstory... hmm, is someone leaving or will she just be an addition next season?
Back at Yolanda's, she lets us know that she loves to cook healthy, look good, cater to her husband - we get it. It seems like Yolanda likes to live her life a certain way, and wants to make sure everyone knows about it.
The women have arrived in Vegas and check into a beautiful hotel room, complete with a 180 degree view of the strip. As in the Vegas strip, not the strippers of Vegas. That's coming next week. Over dinner, Brandi assesses Marisa's relationship, saying her husband loves her more than she loves him. Slow your roll, Brandi. You've finally found someone (besides Camille and Lisa) that likes you and has your back. Don't go all Judge Judy on her and throw your opinions around about her life.
Brandi says she can't help but be the tough girl after everything she's gone through and look. I agree that what her husband did is crappy, but isn't it time to move on? She and Leann just need to shut it, for the sake of Brandi's kids at the very least, and just try to move forward. Kyle seems to understand why Brandi has such a tough exterior at times and perhaps is starting to warm up to her a bit more. If I knew these women though, they won't be able to keep the peace for very long!
The Real Housewives of Beverly Hills airs Mondays at 9/8c on Bravo.
(Image courtesy of Bravo)
Follow Gina @ginascarpa