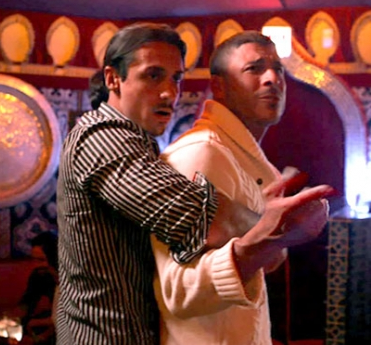 by Gina Scarpa
It's Stassi's 24th birthday and as tradition, she and her friends are headed to Las Vegas to celebrate for the weekend. Jax has been uninvited since Frank's story that he got a girl pregnant came out but the girls aren't very happy about that. In fact, they're so not supportive of Stassi and Frank's relationship that they refuse to ride in the same car as them to Vegas. Though I'm not totally sold on Frank's story yet, I also don't have blind faith in Jax, especially given what we've seen of his behavior thus far.
Regardless of being invited, Jax shows up to Vegas (of course he does) and sits down with Sur manager Peter before blindsiding surprising Stassi. It turns out that he DID get a girl pregnant, but it was 3 years ago, not 4 months ago. Yes, it was pre-Stassi but this is new information he kept from everyone. The birthday group heads to a Chippendales show, much to the guys' dismay, and Stassi and Frank can barely keep their hands off each other. When they sit down for dinner and drinks afterwards, that's Jax's cue to make his move.
Not surprisingly, Stassi and Frank are not happy to see him, especially since it's the second time he has shown up somewhere, trying to win her back. When Tom Schwartz jumps in to defend Jax (granted, a little too harshly and calls Stassi a bitch), she throws a drink at him which gets on Katie. The girls almost come to blows over that but it's Frank and Jax who come dangerously close to throwing punches in the parking lot. Peter basically saves the day singlehandedly by holding Jax back and everyone heads in different directions, while Stassi is left at the restaurant alone.
A new group of Sur employees shows up in Vegas the following morning to celebrate with Stassi and she couldn't be happier. Oh, you mean the group of people she invited second, that she said she didn't like that much, knowing they wouldn't be able to get off their shifts for the night to come with the original group? Yeah, them. The new group goes out to Vanity that night, and Katie and Kristen try to go and wish Stassi a happy birthday, but she's not having it with them.  Whose side are you on?
Vanderpump Rules airs Mondays at 10/9c on Bravo.
(Image courtesy of Bravo)
Follow Gina @ginascarpa