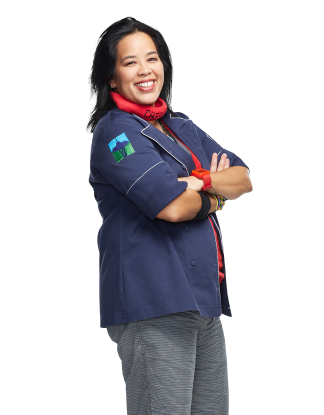 by Gina Scarpa
On Top Chef, contestant Josie Smith-Malave always tries to keep it real. She was never afraid to speak up, defend her food, and fight to stay in the competition but she was eliminated during this week's fried chicken challenge. In Last Chance Kitchen, she faced off against Kristen, who many feel took the fall for her during Restaurant Wars, and lost.  She talked to RealityWanted today about how her cooking has changed and what it was like to compete for a second time on Top Chef.
Q. Gina, RealityWanted: What motivated you to give Top Chef another shot, so many years later?
A. Josie: That's a great question! I'm asking myself that right now! I have a lot of things going on and I think that the first time I was on Top Chef, I didn't really represent myself as clearly as I should have. I also don't think that I was as developed as a chef as I am now. When the opportunity presented itself, I said, "Alright, I'm down!"
Q. Gina, RealityWanted: What's the biggest thing that has changed about your cooking approach or style since we last saw you in Season 2?
A. Josie: So in Season 2, I was very ambitious and I was working with incredible chefs and I think that I had too many of their characteristics in my food during that first season. I didn't really have my own cooking identity. So now, many years later, I stepped out of fine dining and focused on cooking food for the people. I remember coming through the ranks and none of my friends could eat at any of the restaurants I cooked at because they were high end, fine dining restaurants! We were all starving artists and I kind of looked back and said, "God, I wanna cook food for people!" Maybe I should not say this... but I realized that running a fancy restaurant alienates people. It's there for only a certain kind of folk and that's not where I'm from. It's not who I identify with but I thought if I could bring my good technique and respect of ingredients, create some really soulful food, incorporate my travels, communicate through food, and bring everything that I am as a person and a chef to the table. I kinda switched my direction in cooking and I cook, what I call, global soul food. It's about the experience that you feel when you eat it and it's about digging past the surface and getting into what makes it soulful. Sometimes, that's a combination of spices that are indigenous to that place. Sometimes, it's certain ingredients that are authentically that cuisine. Most importantly though, it comes down to smelling it and using all your senses and understanding. Having eaten in those places, I want to embody what I've experienced. As a chef, that's who I've become.
Q. Gina, RealityWanted: You were called out quite a bit for your issues with time management. Is that something you struggle with or do you think the show was trying to portray you in a certain way?
A. Josie: I mean, I've run some really big kitchens. If time management were that big of a problem, I wouldn't be able to do what I do! But maybe I have a problem managing 15 minutes or 30 minutes! I don't know, I don't know. Usually, when I'm home, I have four different calendars for everything that's happening in my world. I take lots of notes, I have reminders on all my gadgets. Top Chef removes those things from you and it's like, "Wow, okay!"
Q. Gina, RealityWanted: This week, you seemed more emotional that we've seen you in the past. Was it stress, missing home, the fact that people were unhappy with Kristen's elimination, what was going on?
A. Josie: Oh I mean, it was a combination of all the things you mentioned. I put myself back into the mix because I wanted to really show my family and friends and fans that, "Listen, you've supported me. I want you to see where I'm going and what I'm doing." The Chef Josie show is for real!
Q. Gina, RealityWanted: Did you enjoy doing Top Chef the first or the second time around better?
A. Josie: Uhhh... it was a reminder this time. It was nice to see people in production. It was a good experience. I had fun, I had a lot of fun this season. Even though you see a lot of emotion and different faces of Josie, the truth is that I was being honest through the whole season. You know, sometimes the truth hurts!
Top Chef: Seattle airs Wednesdays at 10/9c on Bravo.
(Image courtesy of Bravo)
Follow Gina @ginascarpa