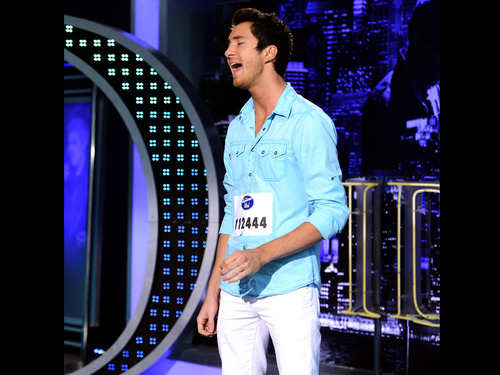 by Kylene Hamulak
Tonight's American Idol takes place down in the bayou, and I can't be the only one hoping Ryan gets chased by an alligator at some point. Baton Rouge gives us more good singers than bad and at least a few contestants to keep an eye on.
Here are the Hits, Misses, and Highlights from Randy Jackson's hometown!
HITS:
Megan Miller, 22
The current Miss Baton Rouge, Megan wants to have a singing career after she graduates. Assuming the infection in her leg doesn't kill her first, but hey! Idol auditions! Forget surgery! She DOES say it's not life or death, but she also said she'd rather lose the leg than miss her audition. So I'd say her priorities are right in line. She's going to surgery right after she sings, and she hopes she'll get to go to sleep with a golden ticket in her hand. The judges are impressed by her voice and her guts, and she gets her wish for the golden ticket.
Paul Jolley, 22
If there's a rogue Jonas Brother in the world, this guy is it. He's auditioning because it's his calling in life and everyone knows it. I'd dispute it, but when he opens his mouth, angels come out. Well, not really...but he's pretty convincing. Keith describes it as "an honesty in your tone." The judges all give him enthusiastic yeses, with Nicki plussing hers to 1000%. Randy brings it down a notch and stops at 100%. (PS -Randy is annoying.) Anyway, Paul and his family embrace in tears for his lost grandfather, and there is definitely something in my eye. Anyone got a tissue?
Dustin Watts, 27
He's a handsome firefighter. Need I continue? Well, if you insist - his voice isn't bad either. He's a country crooner (which isn't typically my thing - sorry Keith!), so we'll see where that takes him - seems like a pretty good mix of qualities for the ladies! I'll start thinking up some punny lines about fire and rescues 'cause things are gonna be heatin' up in Hollywood! (That's one.)
Burnell Taylor, 19
Burnell is a Katrina survivor, and losing everything around him really inspired him to sing. He comes from a musical family, including his talented grandfather. If you've been watching Idol this season, you've noticed a running theme: Saving the best for last. If he's not the best, he's close to it tonight. His voice is strong when he sings, but soft when he speaks, and he evokes every ounce of emotion through it. Keith is absolutely giddy about him (literally - I mean, I thought he was having a seizure), and three of the judges give him a standing ovation. "Burnell made me cry," Mariah says. "I felt every word you sang." Nicki thinks they've been flying all over the country to find this. Watch this guy.
MISSES:
Baton Rouge didn't have too many misses - in fact, while there were several unfortunate montages, there was really only one extended miss.
Chris Barthel/Mushroom, 24
Absolutely the most hyper contestant of the night Chris has an unnamed alter ego that Nicki dubs "Mushroom." After we exchange signs (Chris is Leo, in case you wondered - no confirmation on which sign Mushroom falls under), he gives an all out PERFORMANCE to Adam Lambert's "If I Had You." When it comes time to critique, Keith begins. "Chriiiiis....fun guy...." Ah, ha ha ha - get it? Fungi? Like a mushroom? Like I said last week, ladies and gentlemen - jokes. Keith's got 'em. And apparently puns too. More fun with 'Shroom - Nicki, wrapped in a blanket she claims gives her special powers, asks to run her fingers through his hair, which prompts a pretty intense eye roll from Mariah. Maybe she wants a magical blanket too.
HIGHLIGHTS:
Clay Aiken Award for Idol Potential: Socially awkward can be hit or miss on Idol. Mostly miss. Doctors say Charlie Askew, 17, doesn't really fit any diagnosis, but he's a good kid, and music is an outlet for him. He's got a unique voice (in a good way for once) that sounds very pure. Not sure how far the voice will get him, but the package is a good one for Idol. Randy describes him as "seemingly dark, strange but cool." (Also, Randy has no idea what he's talking about.) Keith, on the other hand, says his tone is "not of a gender," and that actually IS right on. The kid's going to Hollywood with a "1000% yes" from Nicki, "two yeses" from Keith, and "a mysterious yes" from Mariah. Heartwarming Idol moment? His father shakes his hand and tells him he never had a doubt, to which Charlie responds, "I love you, Dad" with a hug.
Blink And You'll Miss Them: Michelle Motezeri, 19, Breanna Steer, 18, and Brandy Hotard, 26, are big voiced hopefuls grouped into one segment of girls on their way to Hollywood. They all sounded good, but that's not going to be enough - they're going to have to set themselves apart somehow.
Favorite Character of the Episode: The grandmother who nominated Maddie Assel, 17, as tonight's Idol Ambush. Randy finds Maddie singing outside the famous Café du Monde. Pretty convenient, if you ask me - even if Maddie wasn't any good, at least Randy could pick up some café au lait and beignets! Maddie's family isn't from around here, so her grandmother waits outside the audition room decked out in New Orleans regalia - the Mardi Gras mask, beads, even a green and purple parasol. She's influenced by Beyonce and Adele, but Keith thinks she's got her own style. Maddie, that is. Not her grandmother. Gram DEFINITELY has HER own style. There's a lot of power in Maddie's voice, and she's on her way to Hollywood. Even better than her performance, though? Her grandmother's congratulatory dance in the hallway. "Magic dust for everybody!" says grandma.
Best Example of an Unfair Universe: Calvin Peters, 27. That's DOCTOR Idol to you. Calvin is in the third year of his residency working with physically disabled people. His voice is good enough to get him to Hollywood, but COME ONE, Universe! Is this really fair? Good looking guy, smart doctor, talented singer? Couldn't you at least have spread these things around a little bit?
Favorite Quote of the Night: Keith about Burnell Taylor - "Somewhere, right now, there's a spotlight just waiting for you to walk into it."
So what did you think about Baton Rouge - will we see any stars emerge from the bayou? Tell us who caught your eye in the comments below!
Catch American Idol every Wednesday and Thursday at 8/7C on Fox!
(Images courtesy of Fox)
Follow Kylene on Twitter @keepingupwithky!