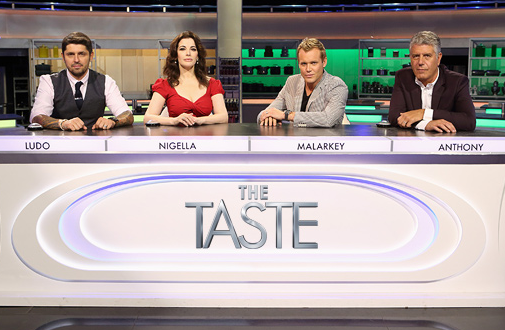 by Albert Lawrence and Gina Scarpa

You can plate a dish beautifully all day long but the bottom line in a cooking competition is that the food needs to taste amazing. ABC's newest reality show, The Taste, is making sure that's where all of the focus lies. Mentors Anthony Bourdain, Nigella Lawson, Ludo Lefebvre, and Brian Malarkey will work with and judge a group of chefs as they try to prove that a single bite of their food is all that you need! We caught up with some of the judges before tonight's premiere, to find out more about what drew them to The Taste, the nostalgic feelings they get when eating, and what they'd put in a single bite.

Q. Albert, RealityWanted: What attracted you to The Taste, and how did you become a part of it?
A. Ludo: The show was really a competition and to be a judge...
A. Brian: For me, it was the whole Nigella Lawson and Anthony Bourdain thing. I was like, "Yeah, I'm in!" It's ABC. It's got a big budget. It's got legs, and it's going something going on. And because it's kind of fun - they take it down to the root of everything, and it's just essentially about the taste, you know? It's just about what you can put into one spoonful rather than about all the hoopla around who made it. It's about great food.

Q. Albert, RealityWanted: How much does presentation have to do with it?
A. Brian: None, because we don't really see it. We just put it in our mouth, and it's crazy. You should do that one day. Just have someone go surprise you and put something in your mouth. And you'll be like, "What the hell am I eating?!" It's all foodies, and you're feeling, you have to get everything out of there. Is it cauliflower or mashed potato. Is that lamb? Is it pork? Is it venison? What are you feeding me right now? And so it's really crazy to think you have to. And so you have to really balance everything. It's pretty wild to think about that.
A. Anthony: We took presentation completely out of the equation. So dazzling presentation. Dazzling knife work. Sophisticated technique. All of that was useless to the contestants. They were all trying to get an emotional reaction.

Q. Albert, RealityWanted: Anthony, I imagine you're a difficult person to appeal to...
A. Anthony: I don't know. I like to think that I'm a champion of a simple good thing. Simple good food with integrity. I respond to it.
Q. Albert, RealityWanted: If someone were to ask you to create a bite that sums up your culinary career, what would be in it?
A. Ludo: I would have no idea. Trust me. It's a very difficult competition to put everything on one spoon. One bite. One bite is difficult to balance this food. The meat, the vegetables. It's tiny, it's crazy.

Q. Albert, RealityWanted: Do you remember a bite on the show that took you to a nostalgic place?
A. Ludo: Somebody on my team made a bite. I loved it. It was like a lobster or a soup. This French dish with an Asian flavor. Amazing. Amazing.
A. Anthony: The smart contestants were ones who figured out who they were cooking for and directly appealed to that person's nostalgia. If they understood that this was a mixture of Nigella and Ludo in particular, it would be kind of easy to figure out what flavors they would respond to.

Q. Albert, RealityWanted: What do you think would grab most people to tune in to The Taste?
A. Ludo: The pressure. It's just so stressful, because each week, we could send somebody home from our team. We never know who's cooking for us. It's a blind taste test. I don't want to send someone from my team home, because I say it sucks. I never realized I'd be so into the competition.

Q. Albert, RealityWanted: What's one tease you'd like to share with potential Taste viewers?
A. Brian: Those four distinct personalities have to really come together to decide on one winner, and I mean we have tastebuds that are completely different. So it's going to be a fun journey to see what's going to put it all together.
The Taste airs Tuesdays at 8/7c on ABC.
(Image courtesy of ABC)