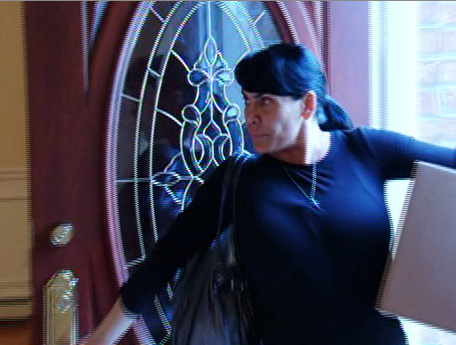 by Jessica Blackwell
Last week, Renee received a letter from Junior and understandably freaked out. The letter threatened her, and warned her not to talk crap about him to their son or else. He even included an opener that said "this is important to your future". How much more threatening can you get? 
Renee knew that she had to get a handle on her addiction with all the drama she was facing, so she attended a group therapy session. In that session, she revealed some details about how her addiction started. It turns out Junior was overmedicating her after her painful plastic surgery so she wouldn't notice anything was going on when he was planning to rat out her family. What a dirtbag! Renee was lucky to find a new place right away, so she began the moving process right away. 
In addition to beginning her new, Junior free life, Renee decided to check herself into rehab. She sat down to AJ, who dealt her more of his opinion than she was ready for. He felt that she never should have started taking drugs in the first place, and that it isn't an illness, but a choice. While he has a point, you can't knock her for trying to clean her act up. 
The new girl, Love revealed a little bit more about her history. You know, besides the fact that she stabbed her ex. Apparently she used to live in the projects, until she was 15 and one of her friends got pregnant. Her mother uprooted her to Staten Island, which she thought was a nice Italian neighborhood. Unfortunately,  Love started meeting men who were in the "lifestyle" and the rest is downhill. She revealed that although she wants a baby, she is nervous to start over with a man because she'll have to tell them about a past that includes her trying to kill every ex in every way imaginable. Sounds tough..but I can't relate! LOLz! 
Drita started getting ready to take her girls to see Lee in prison. Aleeya was really excited to see her Dad, but appalled at all the rules they had to follow. Lee hadn't seen their youngest daughter Gizele, since she was a few months old. Drita has her own reservations about seeing him, because she is unsure of her feelings for him. 
Karen met with a financial planner to try and get her money organized. During her discussions with the planner, she revealed that David, Karina's father, was staying in her Arizona home rent free! At first it was an arrangement to help him get back on his feet, but now that he's doing well, there is no reason for him to live scot-free. The financial planner advised her to politely kick him out and rent the property out so she can make some money! 
Karina came to visit, and David stopped answering her calls, so Karen picked her daughter's brain to try and figure out what was going on. Karina told her that David has a girlfriend, which was news to Karen! Apparently the new woman in Dave's life doesn't know how to pack her bag when she leaves, because Karina found a G-string in her bedroom! Needless to say, Karen was livid! He doesn't pay rent and he has another woman in her home! 
Next week, Karen confronts David, Renee checks herself into rehab, Lee initiates divorce proceedings  and Drita finally takes the girls to see Lee. Stay tuned! 
Mob Wives airs Sundays at 8/7c on VH-1. 
(Image courtesy of VH-1)