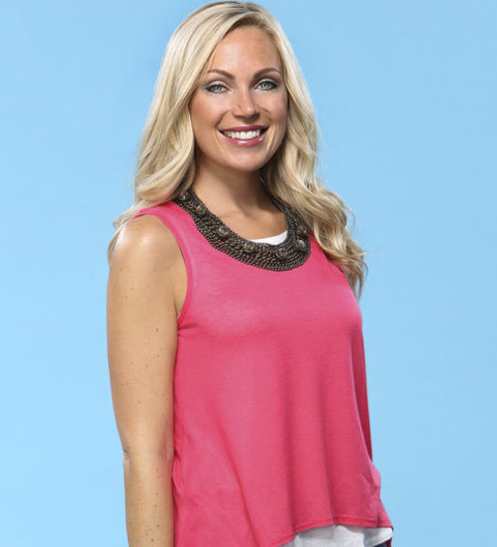 by Gina Scarpa
When Sarah Herron stepped out of the limo the first night on The Bachelor, two things were clear.  She was there to find love, and she didn't want anyone treating her differently because she only had one arm.  Sean put her at ease immediately, and asked her out on the first one on one date of the season.  While many of the girls are busy causing drama or feeling insecure, Sarah has been keeping it cool and focusing on the positive.  Today, she talked to RealityWanted and reporters in a conference call about her experience so far with Sean and the other ladies on The Bachelor.
Q. Gina, RealityWanted: What was your opinion of the roses being handed out throughout the evening on the first night?
A. Sarah: Uh well the first night, Sean obviously chose a different strategy for handing out the roses. It was a complete shocker! I was very confused and thrown off by what was going on. Tierra received the first impression rose or so we thought. As the roses continued to be handed out, I think nerves got a little tense. I think it put all the girls on edge. We were not really sure what was going on and it kind of upped the ante on the competition. Everybody knew that time was valuable. It was definitely a change of routine and it was a complete shocker.
Q. Gina, RealityWanted: What qualities in Sean do you feel make him a good match for you?
A. Sarah: You know, I think so highly of Sean. The moment I knew he was going to be the Bachelor, he's the kind of guy I'm looking for. He's 100% authentic and genuine. He has a very big heart, he's a gentleman, he's patient, he has an awesome sense of humor. He's the whole package! He's athletic and sporty and enjoys activities. He's creative, passionate, and compassionate - just a whole package.
Q. In the premiere, you were shown saying that the fact that you have one arm is why you're still single. Did you ever have any concern that your situation played a role in why Sean chose you first for a date, but in a positive way?
A. Sarah: I did think that my situation played a role in Sean choosing me for the first date in a positive aspect. I think that, what happened was, I introduced myself to Sean and I made an impression and I hope that's why he chose me. I hope he saw me as a unique, strong, courageous individual and that I deserved the opportunity as much as anyone else. It was to my advantage, it helped me stand out and catch his attention. I'm grateful for that. It was a very, very pleasant surprise. I was very honored.
Q. In Sean's blog, he said he could tell you weren't completely comfortable talking about your arm and that you weren't convinced he didn't care about it. What do you think?
A. Sarah: Well, here's the thing. I think most women have their insecurities whether it's your weight or your style or I don't know, the color of your hair. Everybody has something abut them that they don't feel awesome about. For me, my barrier is having one arm. Maybe I felt the need to overcompensate to say, "Hey, I'm open and comfortable talking about it," because I want him to feel comfortable. He made it very clear that it was and he put me at ease. He said, "I like you for who you are, I think your'e great," but it was just important for me to let him know everything that I could and cover all the bases and just really be open and honest about all of my concerns. I appreciate him giving me the time to talk about it but I think we did that and we established that we can move forward.
Q. Obviously, you knew who Sean was and had seen the show before you went on. Was there anything you felt you wouldn't do?
A. Sarah: Um... you know, I'm kind of a modest person to begin with and I know that there has been instances where girls go on the show and lose their inhibitions. That was my number one concern. I wanted to be mindful of my actions and the way I was portraying myself on the show. I never said, "I will never get in the hot tub or sip champagne." I just wanted to be comfortable.
Q. What do you think of the girls like Lindsay, Amanda, and Tierra this season?
A. Sarah: As far as Lindsay showing up in the wedding dress, naturally, it's going to be a little off putting to the other women in the house. It makes a bold statement and kind of makes other women defensive. It was a bold move but I think we all learned, very quickly, that Lindsay only had the best intentions. She's the sweetest girl in the entire world. It was never meant to rub anything in our faces. She was just there to make an impression on Sean, like the rest of us. As far as Amanda, living in a house with girls is tough. Everybody I think has their moment where you just break and need your personal space. I don't think Amanda's a terrible person, she's actually very sweet. It's unfortunate that so many of the girls saw her in this negative light. She's a great girl and I think she'll be okay. Tierra said she didn't come here to make friends but t think when you're signing up to be living in a house with 25 females that are dating the same guy as you, you don't need to be there to make best friends but you're not going to have the same enjoyable, enriching experience if you're making enemies. It's much easier to make friends. Girls don't wanna be pushed away, we natually wanna be friends with everyone.
Q. Sean has proven to be quite the gentleman about you having one arm and I feel like it took a lot of courage for you to go on the show and I love that about you. I'm wondering if the girls were weird in any way...
A. Sarah: You know what? I'm interested in that as well. The girls were actually very, very sweet and welcoming and encouraging and immediately bonded with me so well. It's very strange how close I got with the girls and they wanted me to succeed and do well and feel beautiful and brave. I'm fortunate that there were such wonderful girls in the house. Coming on the show was hard! I knew I was putting myself out there and America was going to see me in my most vulnerable state and doing a lot of learning about myself. If any of the girls thought it was bizarre or off putting, they definitely kept that to themselves.
Q. So if it's not you that ends up with Sean, is there another girl that you think is a very good match for him?
A. Sarah: I honestly think Lesley M. I think she is a wonderful girl, she's beautiful, and she's so cool. I see this great spark happening between them. I think Lesley is a possible contender!
Q. What's been your biggest surprise on the show?
A. Sarah: Well, I think actually, this coming episode is going to be a pretty big shocker. There's a lot of drama that happens next Monday night and I think it's just going to be really interesting to see how it all unfolds and what really happens. We're all finally settled in the house and we're seeing some true colors come out. I think things are going to start getting interesting next Monday night and Sean does something to surprise me. It was unexpected and I didn't see it coming.

The Bachelor airs Mondays at 8/7c on ABC.
(Image courtesy of ABC)
Follow Gina @ginascarpa