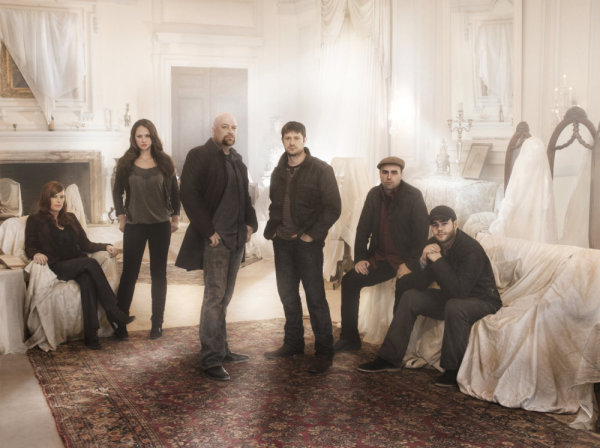 by Chad Alan
"Hollywood Horror Stories"
The Black Dahlia Murder: Sowden House - Los Angeles, CA
One of the most famous and brutal Hollywood crimes took place at the Sowden house.  When you ask folks who live in the Los Angeles area about "Black Dahlia" it will send a shiver down their spine.  Elizabeth Short, better known as the "Black Dahlia," was found surgically cut in half and dumped on a lot about five miles from the heart of Hollywood.  The son of the man who is believed to have killed her, and as many as 9 other woman, gave TAPS the tour of the place he once called home.  Dr. George Hill Hodel was a big time figure in the community and ended up leaving the country after becoming the number one suspect of the murders.  The master bathroom tub may have been used during the murders so the blood could go straight down the drain during his deadly surgical procedures.  People who have lived in the house over the years have heard the dragging of chains, voices, and footsteps.  More interesting are the reports of shadow figures that seemed to be only visible from the waist up.  Don't worry; people have also reported full bodied shadow figures as well, including a gentleman that resembles Dr. George Hodel.
While Britt Griffith and K.J. McCormick were at the command center watching the video being sent in from the house, they noticed a half bodied figure come into view from the basement area, exactly where these types of apparitions had been reported.  It's on video for all to see.  The two got to spend some time in the basement and they were getting some activity on their devices that seemed to be responding to their questions, which was then followed by a wire moving that was hanging from the ceiling.  The activity died down but some presence was most likely with them down there. 
TAPS co-founder Jason Hawes and Steve Gonsalves were the first to be greeted by footsteps and strange noises as they called out for George Hodel.  Newbie investigator, Michelle Tate, spent a considerable amount of time in the master bathroom, sitting on the tub where the brutal murders may have been conducted.  She would also hear footsteps around her but nothing showed itself.
Besides the items mentioned above, the crew caught a couple of very interesting EVP's.  One seemed to say "It's George."  Another was a girl's voice stating "Do you even know my name?"  Was this one of George Hodel's victims asking him if he even knew her name before killing her?  The Sowden House has enough paranormal activity going on to place it on my "Don't want to be there at 3am list."
Off to Hollywood boulevard to check out one of the many tourists' traps in Hollywood, Madame Tussauds Wax Museum. Name the famous person, and they are all waxed up staring at you creating an immediate level of creepiness.  Employees experience many paranormal activities after returning from their "smoke break" behind the building.  Shadows figures, music playing, signs turning on and off, are just a few of the things that seem to happen during the slow times at the museum, specifically at night. Some attribute the paranormal activity to a 1930's actor named Victor Kilian who was beaten to death right around the property where the museum now sits.  His killer was never found.  Multiple mediums will tell you that the spirits of former actors are very much present in the Hollywood area, especially at the studios where they did their work. 
Britt and K.J. were getting some significant readings on the second floor of the museum as they were calling out for Victor Kilian.  They asked who ever was there with them to manipulate the readings of their devices, and it seemed to work after each question.  According to their questioning, it was Victor Kilian...of course it could have been the ghost of Lindsey Lohan's former lips screwing with them.  As they moved around the museum, they began hearing voices and their devices did continue to register readings, meaning some type of energy was there with them.   Dave Tango and Adam Berry had multiple personal experiences with noises during their investigation but nothing that could really be called paranormal. 
The team did catch a few inaudible EVP's, with one of them sounding like the voice was saying "Die!"  They also caught a very obvious shadow figure on their video recorder.  Final Analysis: Tourist Trap.
Ghost Hunters airs Wednesdays at 9/8c on Syfy. 
Check out the archive of past show recaps here!
(Image courtesy of Syfy)
Contact Chad Alan at Chad@RealityWanted.com