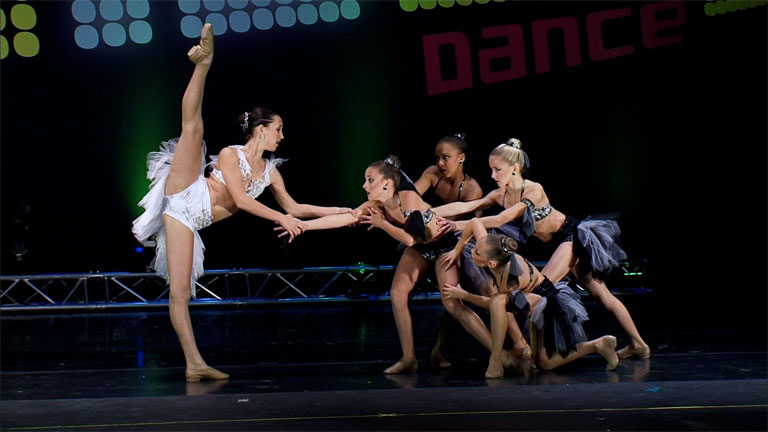 by Kylene Hamulak
Abby Lee is back, and as excited as the girls and moms are to return to dance after their victory and long break, I'm pretty sure it doesn't compare to how excited WE are for the return of Dance Moms. Abby Lee, on the other hand? Not-so-thrilled when Kelly doesn't show up.
Abby enters the studio and dramatically tears the pyramid off the wall, declaring "NO PYRAMID." She just seems generally pissed off at the people who aren't there, but also the people who ARE there...so that just about covers everyone. Even I feel a little guilty for disappointing her, but it mostly seems like she's annoyed at the girls for not learning all the routines she left for them to work on while she was off being a Hollywood star all summer.
Abby tells the girls that she will be holding an audition to fill the spots left vacant by Brooke and Paige and she warns them to be nice to whomever the new girls are. Gee, nothing makes me more eager to be nice than being told to do it!
Chloe raises her hand to ask about solos, despite Christi's efforts to telepathically prevent her daughter from making eye contact or asking questions. "Way to go, Chlo...Mackenzie's the only smart one...she's like, I'm little, and I'm standing behind everyone."
This week's group routine is "Angels and Demons" and it's- oh, wait..wait - a correction on that. It's actually "AnGEL and Demon." Just one angel. Because THAT'S what happens when Paige and Brooke don't show up.
The day of the open call, the line of hopefuls stretches practically to Canada, and the dancers and their Dance Moms pile into the studio. The current moms are a little nervous that their daughters might be replaced, as Abby is impressed by the crop of auditioners. All I see is a lot of long legs and arms pulling tricks that make me wonder if their entire bodies are made of rubber.
From the gallery, Jill reports that the moms also seemed liked they were auditioning, and she tells us, "These moms are crazy." I'll give you a moment to let that settle.
Over at Kelly's house,we're contemplating the girls' return to ALDC. Brooke says they were pulled from the studio because Abby is mean to her sister and doesn't get along with her mom. She also reminds her mom that she's not even sure she wants to dance and is echoed by Paige (who maybe just wants to try modeling), which exasperates Kelly. If I was to caption Kelly's expression, it would have a bubble that says, "Oh, you WILL dance and you will LIKE it." So that's healthy.
Back at the studio, Jill learns that Kendall will have a solo this weekend, but Abby not-so-subtly warns Jill that her daughter better be inspired after seeing the audition talent. Yikes. When the rest of the team learns that Kendall will be performing the first solo of the season, Abby has yet to be reveal who will be filling Paige and Brooke's spots, if it's anyone at all. The moms are all a little nervous that the new girl(s) will not be working for opportunities as hard as their daughters have had to work.
Kendall's solo is called "It Girl," and Jill won't shut up about it. We got it. You're excited and you're proud, but you're about to get smacked, Jill. And while you're busy bragging, your kid is getting yelled at by Abby, and she's about to come back crying. Yeaaaah, Abby's not so happy about that. "She's NINE. Years. Old. And she's sitting upstairs, ON HER MOTHER'S LAP, crying." Jill goes toe-to-toe with Abby telling her not to yell at her kid, and Abby is just pissed off that Kendall had the attention span of a gnat in rehearsal.
As the old moms discuss Abby's recently inflated ego, the new moms arrive with the final two contenders. Instead of choosing to fill two spaces, Abby decides to add only one girl - 13 year-old Ally, who is about a foot taller than all the other girls.
Meanwhile, like any good comic book villain, Candy Apple Cathy has been plotting her take down of ALDC since her defeat at Nationals. Justice has left the Candy Apples, and Cathy is trying to talk to Vivi as if she's going through a bad break up. Vivi looks at her as if to say, "uh, I thought we were just coming here for ice cream" and digs in for another spoonful of whipped cream. "I'm here...look at me....slow down," Cathy tells her. That's EXACTLY the kind of thing a comic book villain would say!
"What if I do something really crazy," Cathy says before asking Vivi if she'd be ok with not being on the team if she developed an entirely different team. (Sidenote - "what if," Cathy? Really? Your crazy is only hypothetical?). It takes Vivi about three seconds to answer "uh, yeah" before taking some more ice cream. Personally, if it was me, I would've negotiated - "I'm absolutely ok with it as long as it means you'll shut up and let me finish my sundae!"
So anyway, Cathy's crazy brilliant idea is to use a team of all boys. Vivi couldn't care less. And then Cathy forces her to tell her it's a brilliant idea. Then she laughs maniacally. JUST LIKE A COMIC BOOK VILLAIN.
During Ally's first rehearsal with Abby, she learns that she'll be taking Chloe's spot as the Angel in the group routine, just as predicted earlier in the episode because she's so damn tall. Then Abby gives Ally a hoodie embroidered with Brooke's name, which seems a little creepy. It's not like they can't afford to just get the girl her own hoodie. On the bright side, Shelly seems normal. So far. That won't last long.
Holly is the first to realize that Ally is dancing Chloe's part, and all the moms seem uncomfortable with it. Shelly tries to avoid getting into any drama. Oh, Shelly. Shelly, Shelly, Shelly. You're cute with your N'Orleans naiveté. You can't avoid the drama. You create drama even by avoiding drama. Welcome to Abby Lee.
Chloe's solo this week is "Nobody's Perfect" because even though she won a title, Abby thought she had a lot to work on. When Maddie arrives for her solo rehearsal, Abby warns her straight away - you cry, you're done. Which, honestly? Would've made me cry.
Then there's Mackenzie. Dear gah, this kid is adorable. And you know why she's adorable? Because no matter what, she's always got that dumb look on her face. Like, she doesn't care that Abby called her a dumb little kid. She doesn't really mind when Abby yells at her for forgetting things (mostly because she DOES forget them). She just kind of does her thing.
Getting back to the group number, it's more of the same, yelling about regressing during break and blah blah blah, but this time there's a new twist - Abby threatens that if it's not perfect? She'll scrap the group number and give Ally a solo. The moms think that's wrong. "Her name is Abby Lee Miller," Holly reminds us. "She has wrong as her middle name." Ummm...I'm not sure "middle name" means what you think it means, Holly. Anyway, Holly takes it up with Abby, telling her she's not going all the way to Denver only to have Nia not dance in the group number. Abby took it well, as you can imagine.
It's sort of fun to see Abby showing Shelly around Pittsburgh and subtly asking her what she thinks about the other moms. Especially when Shelly tries to find the polite way to say what she thinks about the other moms. "Um, they're very honest and forthcoming." Abby tells her not to let the other moms see her sweat or chase her away, but apparently Shelly has an older daughter. Competitive dance isn't new for her, so she can hold her own.
The day of the competition, the moms miss Kelly, and the girls still don't know if they're dancing as a group. The moms are trying to pressure Shelly into telling Abby that her daughter will not dance it as a solo, but Shelly isn't taking that bait. Jill says, "I don't know what she's up to...." I'm pretty sure she's not "up to" anything except not pissing Abby off, Jill.
Christi isn't sure that Shelly fits in. I'm not sure Shelly is trying to fit in, Christi, but ok, let's go with your observation. "When she speaks, birds fly out of her mouth," Christi says. "When I speak, FIRE comes out of mine." Both of those are pretty neat tricks, and they go well with Cathy's comic book villain story line.
Maddie's solo goes very well, and everyone seems excited about it, followed by a great solo from Chloe. Backstage, we find out she actually forgot a piece of it, but was able to improv it. Abby noticed, and she wasn't too happy.
You know what put her in a better mood? A visit from Mark, an old high school friend who apparently was the subject of some drama between Kelly and Abby. Christi shares that despite Mark pretending he doesn't remember Kelly, they actually DID date, and Abby went psycho over it. Meh...grain of salt. Can we get back to dancing or catfights please?
Up next is Kendall's solo, which Jill thinks was good but not fabulous. Abby thinks it should've been better too. The announcement comes that the group dance will go on, and Ally feels a little scared about the pressure Abby has put on her. No worries though - they all did great. The Angel AND the Demons.
The final solo of the competition is Mackenzie, and there's some concern that she might forget her dance and just run off in the middle of it. Again. Like, enough concern that the other girls are praying that it doesn't happen. Literally.
They should've been praying that her bows don't come undone because a rogue ribbon is her downfall this time. The bow flies off her head, and the poor kid loses her focus because of it. She finishes the routine and exits into the arms of her sister, who promises her that it was great and tells her not to cry. Abby blames the bow mishap on Melissa, but poor Mackenzie is terrified that she won't be allowed on any more trips.
No worries, Mackenzie - even a lost bow couldn't knock you off the first place title. I guess Abby will let her stick around. "Ha ha, Abby, I won anyways!" says Mackenzie. Not gonna lie, that made me snort a little. Kendall gets a 5th place award, Chloe comes in 2nd place, and, of course, Maddie comes in 1st. Abby uses the awards to challenge Chloe - "Do you wanna traipse all over the country, or do you want to be the best...?" (Honestly, Abby? I think I'd take 2nd place in life if it meant I got to traipse all over the country.) Lastly, the group is awarded 1st place and, while she's excited about it, Chloe just wishes Brooke and Paige could celebrate with them.
Ah, of course, not even 1st place can keep things calm at ALDC, and Abby makes it known that she credits Ally for being an inspiration and working for it, pointedly comparing her to Brooke and Paige. Christi challenges Abby, saying maybe she should've talked to them differently, and then Abby gets the ol' in her response. So now she's cursing in front of the kids too, and while I don't really condone it, the reactions to the word were pretty funny. "I'm sorry I swore," Abby says, "but you've all heard worse."
And if the previews are any indication, I predict we'll all be hearing worse this season.
Catch new episodes of Dance Moms on Lifetime, Tuesdays at 9/8c!
(Image courtesy of Lifetime)