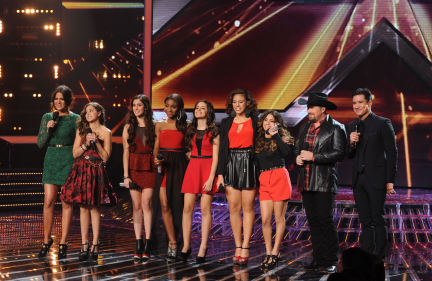 by Todd Betzold
Another season of The X Factor comes to an end tonight and it will be either Tate Stevens, Fifth Harmony or Carly Rose Sonenclar taking home the $5 million recording contract. We may all have our favorites, for me it is Tate, but it all depends on how America voted and in two hours we will find out those results!
We start with Mario Lopez and Khloe Kardashian on the red carpet, as the judges arrive in limos and it is over-the-top and awkward. Then we get to see Pitbull and One Direction arrive and I want to slap everyone at FOX for doing this!
The hosts and judges arrive in the studio and now it is time for the Top 3 to arrive, which also come in limos on the red carpet while singing "All You Need Is Love." So early in the show and I am already over it!
Tate is the first of the Top 3 to perform, as he performs a Christmas song to get everyone in the mood for the season. I love this man! There is then a special video from his family and friends, which brings a tear to my eye!
Now it is time for Fifth Harmony take the stage, as they sing "Christmas (Baby Please Come Home)." I am just over these girls and this proved their inability to sing as a group. Send them home!
The last of the Top 3 to take the stage is Carly, as she sang "All I Want For Christmas Is You." I love this because she finally shows her age and has fun and it was cute!
We get to some results an hour into the show? Good job on that one FOX, as we find out who the third place team is tonight. The first act going home tonight is Fifth Harmony! I could not be any happier! Tate or Carly will win tonight!!!
We take a look back at the highlights from Season 2 and then Pitbull takes the stage singing his new song "Don't Stop The Party." He is very entertaining and it was a good break, but I want results!
To make all the girls watching happy, we get to see One Direction perform one more time this season on The X Factor. They sing their new song "Kiss You" and you know every girl (and some boys) were out there knowing the boys were singing this song only to them!
For their last time on the stage, Carly and Tate sing "The Climb" together. Did they know they were the final two since they were ready to sing this song? Great song, but go Tate!
It is time for the results on The X Factor. Tate Stevens and Carly Rose Sonenclar take the stage and it is time to see who wins it all. The winner of Season 2 is Tate Stevens! I could not be any happier. The most deserving singer won tonight!
The X Factor airs on Wednesdays and Thursdays at 8/7c on FOX.
(Image courtesy of FOX)
Follow Todd on Twitter @TopicalTodd