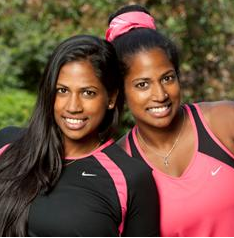 by Gina Scarpa
If there's one thing we learned about twins Natalie and Nadiya Anderson this season on The Amazing Race, it's that they are who they are. They're loud, they're competitive, and they speak their mind. They also were a force to be reckoned with, finishing in the top three at six different pit stops. They were eliminated in France, right before the final leg, and we talked to them about that and their Amazing Race experience as a whole in our exclusive interview.
Q. Gina, RealityWanted: What made you want to try out for The Amazing Race this season?
A. Natalie: I mean, as long as we can remember, people have told us that we need to be on tv doing something. The only show that we would want to do, the show my parents would allow us to do, is The Amazing Race. The travel race is just a part of Nadiya and I. Traveling is such big deal for us and it made complete sense, so we sent in a video.
Q. Gina, RealityWanted: Once Caitlin and Brittany went out in the third leg, you were the other female team left in the race. Did that motivate you more to do well and represent for the ladies?
A. Nadiya: Yeah! It totally motivated us and we were this complete minority team this year. We were the only minority, in terms of non-white. We were foreigners, and we were the only female team. We bonded with Brittany and Caitlin on that last train ride and after that, we put it into overdrive. We never let anyone forget it. You probably heard us screaming throughout the race!

Q. Gina, RealityWanted: You formed an alliance early on with Trey and Lexi, and Jaymes and James. How did the three of you end up becoming so close?
A. Nadiya: Trey and Lexi, that was a completely organic friendship. We bonded in L.A. before we left for Shanghai. It continued to flourish. We never spoke about U-Turns, strategic stuff... The Chippendales came on board in Russia. They were close with Abbie and Ryan and when they were no longer around, that's how they ended up with us.

Q. Gina, RealityWanted: You've been taking some heat for the comments you've made throughout the season but Jaymes and James were defending you when I talked to them, saying a lot of what was shown was taken out of context. Do you feel like people didn't get a full understanding of who you are?
A. Natalie: You know, it's weird, especially in the comments during the finale. We were hanging out with friends and family. Our comments... the whole point of reality tv is to make a point. We understand we're getting ourselves into a situation where it's going to be an exaggerated version of yourself. It's going to be a cartoon, but me and Nadiya do know us. Jaymes and James know us, and our friends know us. It's hard when people don't know you. I'm not asking for people to love me all the time. Me and Nadi's personalities, we're loud, crazy, and the it's part of who we are. We can either own it or go into a corner and cry. We decided to own it and our friends and family know who we are.
Q. Gina, RealityWanted: What do you feel was your toughest moment on the race?
A. Nadiya: I think our toughest moment... even when we're losing and we're doing really bad, we joke around a lot. The one moment that my heart sank was when we were driving in the right direction. When we found out the town was in the opposite direction. We kinda knew we had sealed the deal. We didn't know how far out we were. It could've been a few seconds, a few minutes, or an hour. It didn't make it any easier to lose.
Q. Gina, RealityWanted: The two worst times to be eliminated in a reality competition are first, and then right before the very end. How did you handle losing?
A. Natalie: I feel like we were so invested. You're almost at the piece of cake and then it's like, "Actually, forget it, we can't give it to you now." We told the Beekmans at the finale that they kicked ass in the last two legs.
Q. Gina, RealityWanted: Would the two of you go back and run the race again, if you were given another chance?
A. Nadiya: Hell yeah! We would be there in a heartbeat. We would try and learn from our mistakes, calm down a bit. Our craziness is a good thing but sometimes, we need to learn how to relax.
A. Natalie: Coming back is like getting a once in a lifetime opportunity twice! If we ever get the opportunity to do this again, it'd be out of control.
Q. Gina, RealityWanted: What's next for you?
A. Natalie: I'm going back to school. We don't exactly know what's in the future. People seem to like us on the race and like the way we acted. This is a hundred percent who we are. Nothing is for the cameras. We don't know at this point. We're trying to enjoy this amazing experience and then move on from here.
(Image courtesy of CBS)

Follow Gina @ginascarpa