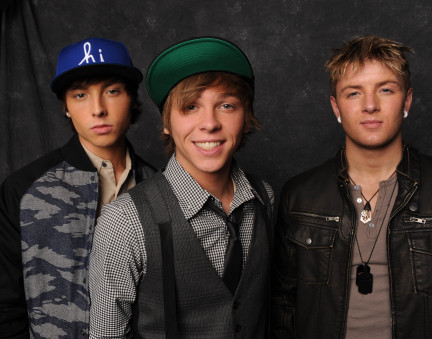 by Todd Betzold
Not wanting to keep a step off of The Voice, The X Factor is down to the Top 4 acts this season and will announce the winner next week. We have two groups left for Simon Cowell and one singer left for both Britney Spears and L.A. Reid. It is all on the line tonight for these acts, so who will shine and who will fall flat on their face? Let's check it out!
One singer will go home tomorrow night and it will all be based on your votes. No judges' decision or vote and the lowest votes will go home. Finally, they will not make the decision.
Tate Stevens (Over 25s) - "Bonfire" by Craig Morgan
For the first time in the competition, the singers get to choose their own song and Tate chose this in honor of his friends. I am liking this performance. It is pure country and he is having fun on stage and I like it. Britney said it has to be your best and it was not his best. Demi said she has to disagree and that was a freaking amazing performance. Simon said he brought the song he wants to record and it was one of his favorite performances. L.A. said you picked the song and he lit the stage on fire and it was the most fun he has had on the show.
Carly Rose Sonenclar (Teens) - "Your Song" by Elton John
Carly chose this song in honor of her Dad, who gave her her love of music. This song started very rough for me and I love Carly. She kicked it in and the second half was done very well. She can hit some amazing notes, but this may have been a bad song choice. L.A. said she picked a risky song and she did things with that song he has never heard done before and he can feel she wants to win this competition. Demi said it is very predictable, but this is her favorite song she has performed. Simon said it was a beautiful version of a fantastic song. Britney said she is turning into a huge superstar right before her eyes.
Emblem 3 (Groups) - "Baby I Love Your Way" by Peter Frampton
Demi wants them to command the stage, so that is their goal this week. I am so over this group. They are cute and will make it to the finals, but they do not deserve to win. They commanded the stage by slapping hands with the girls. I am just not impressed. L.A. said that was the first time he saw them as recording artists. Britney said that performance felt very special and they have grown up during this season. Demi said that is exactly what she is talking about and that's what makes me love them. Simon said this reminded me of their first audition and it felt raw and they chose a fantastic song.
Fifth Harmony (Groups) - "Anything Can Happen" by Ellie Goulding
They wanted to show they are a fun and exciting girl group, so they chose this song. To do that, they decide to sit behind a table for most of the performance? I am so over both of the groups and they need to go home! They sang well and it was a good song, but it was not fun. L.A. said it was the very best vocal performance they have ever done. Britney said she loved everything about it and they are inspiring girl power. Demi said it was so cute and they pulled out the sparkle they need sometimes. Simon said to get into the final they need a miracle and because of that performance, anything could happen.
Tate Stevens (Over 25s) - "Fall" by Clay Walker
This is to his wife and I think he is amazing. I just love this guy and I think he deserves to win. This was a very touching performance and he has an amazing voice. He deserves the $5 million and has my vote! Britney said that was a direct hit. Demi said his wife must feel like the luckiest girl in the world and he deserves this. Simon said that was a great song and he has done enough to get into the final. L.A. said he has been great every time and tonight is no exception.
Carly Rose Sonenclar (Teens) - "Imagine" by John Lennon
She will start out at the piano tonight, which has Carly nervous. Don't get me wrong, but I think Carly is an amazing singer. However, she is 13 years old and I want to see her sing a song for her age. She does a great job, but I just want to see her have fun. Demi said it was amazing. Simon said I would have kept you at the piano and too much going on and it made a beautiful song fussy. Britney said it is time for her to go beyond this stage and compete with the biggest stars in the world.
Emblem 3 (Groups) - "Hey Jude" by The Beatles
Keaton is worried about the song and he has a key part in it, but his brother thinks he can nail it. Does anyone else think that Keaton looks like he could be a little slow at times? He just looks awkward on stage at times. This is a song to get you into the finals and I was bored. Again, I am over Emblem 3! L.A. said they are teen heartthrobs like the Beatles, but they did a great job. Britney said that was an A-level performance and they should take a bow. Demi said it was amazing. Simon said they have nailed it on both songs.
Fifth Harmony (Groups) - "Impossible" by Shontelle
The girls sang this at Simon's house, so why would he chose it for them again? They decide to add Spanish to the song to make it different, but really? The Spanish did nothing for me and they did better the first time they sang it. I am over the groups tonight and I am glad one of them will go home tomorrow night! L.A. said the song choice was a little lazy and he has heard it. Britney said it was pretty good and she would be surprised if they were here next week. Demi said it is going to come down to your fan base and how they vote. Simon said it was the right thing to do and a reminder of how he fell in love with them in the first place and they have been one of the strongest acts tonight.
The X Factor airs on Wednesdays and Thursdays at 8/7c on FOX.
(Image courtesy of FOX)
Follow Todd on Twitter @TopicalTodd