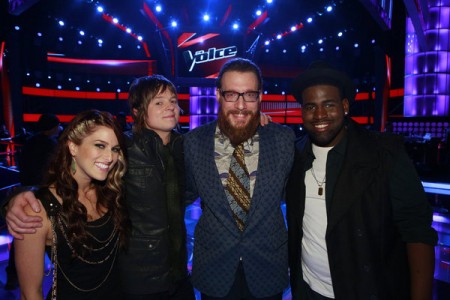 by Todd Betzold
This is a huge night on The Voice, as the Top 4 take the stage to win over your votes. They are one step away from making the finale next week, so the pressure is on big time for these final four standing. It is Team Blake versus Team Cee Lo, so Adam and Christina will sit back and watch tonight. We also get a performance from Season 2 mentor Michael Buble.
After Carson Daly announces that only one singer will be eliminated this week and we will have three singers in the finale next week, Michael Buble takes the stage to sing a Christmas song in honor of his Christmas special which shockingly airs later tonight on NBC.
Trevin Hunte (Team Cee Lo) - "Wind Beneath My Wings" by Bette Midler
We get to see a home visit for Trevin, which was very emotional and nice to see. I think he has a great voice, but I don't think was one of his better performances. His voice sounded awkward and weird at times. He makes us all forget that with some huge notes at the end though. Cee Lo said he has seen him grow and progress and his voice is amazingly beautiful.
Nicholas David (Team Cee Lo) - "You Are So Beautiful" by Joe Cocker
Nicholas returned to Minnesota for a homecoming with his family, who recently bought a house and he gets to see it for the first time! He went to the doctor with his wife to the doctor and hear the heartbeat of his baby for the first time. Love it! He dedicates this performance to his family and he gave me chills. This is how you perform if you want to make it to the finals and he deserves to be there, hands down! Cee Lo said it was so heartfelt and so beautiful and we are your family.
Time for a little intermission, as Blake Shelton meets up with his singers from the season and tells them that they will all be singing a Christmas song on his Christmas album. They are all excited and of course, they all join him on the stage to sing it live for us. Team Blake everyone!
Cassadee Pope (Team Blake) - "Stupid Boy" by Keith Urban
Cassadee headed back to Florida to meet up with some of her biggest supporters. She has some time with family and then a radio visit and a live performance while home and it wasn't emotional as others. I am voting that Cassadee changes the pop rock vibe she has going on and goes country. Anyone else feel that way? She sang the crap out of this song and sounded amazing. I have never heard this song before and she made me think it was hers. Blake said she has the ability to connect with a lyric like no one he knows and nobody else on this show can do what she just did.
Terry McDermott (Team Blake) - "Let It Be" by The Beatles
Terry returned to New Orleans for a surprise visit with his son and family. His aunt and uncle make a surprise visit from Scotland and he is so happy, which makes me happy. You are singing to make it into the finals, so what song do you pick for Terry? Of course, a Beatles song! He nails it and it is a perfect song choice and spot on. A strong performance that will for sure skyrocket up the iTunes charts. Blake said in his heart, he feels that was musical perfection.
The Voice airs Mondays and Tuesdays at 8/7c on NBC.
(Image courtesy of NBC)
Follow Todd on Twitter @TopicalTodd