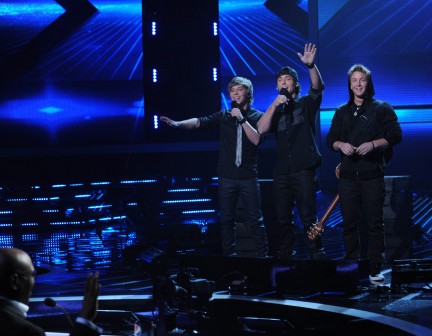 by Todd Betzold
Another night of results on The X Factor tonight, which means two singers go home and a night of performances to waste time. Tonight it is all about Ke$ha, as she makes her way to the stage tonight and also we get to see Season 1 winner Melanie Amaro debut her new single.
As usual, we start out with a look back at the performances from last night and a look at things backstage. Harry Styles tweeted about Fifth Harmony last night, but will it help with the voting?
Time for the first performer of the night, as Season 1 winner Melanie Amaro takes the stage to sing her new single "Long Distance." She is looking very good, so I guess that $5 million has been treating her well! I enjoyed the song though and it has a good club feel to it.
Seeming that Simon Cowell is behind the creation of Sony X Headphones, so the final six acts talk about what music has meant to them and it is pretty much a commercial for the headphones...over it!
The Top 6 and their mentors now take the stage and it is time to find out the first act that is leaving us tonight on The X Factor! The act with the lowest number of votes tonight and headed home is CeCe Frey. She fought, but her time has come to an end.
Time to find out who is safe tonight on The X Factor: Emblem 3, Carly Rose Sonenclar and Tate Stevens. That means Diamond White and Fifth Harmony in the bottom two tonight, so they will be singing for survival.
Ke$ha takes the stage to sing her new single "C'mon." It is fun, but it sounds like a Ke$ha song, which is why I loved "Die Young" because it wasn't a normal song from her. Oh well, she will party tonight anyways.
Now it is time for the singers to sing for survival and Mario Lopez tells Simon to introduce his group and he whines and wants to go second. He is so annoying and just introduce the girls! Fifth Harmony is first and they worked it out on this song and sounded good together, so two nights in a row where I like them. Diamond White gets her chance to sing and she belts it out and does so good, but I doubt the judges will save her again this week.
We get right to the results and the judges vote: Simon sends home Diamond, Britney sends home Fifth Harmony, L.A. sends home Diamond and Demi sends home Diamond, so she is headed home and Fifth Harmony is safe.
The rankings this week are:
Tate Stevens
Carly Rose Sonenclar
Emblem 3
Fifth Harmony
Tate gets the top spot back, but it is still him and Carly Rose in the top two spots. One of them will be the winner!
The X Factor airs on Wednesdays and Thursdays at 8/7c on FOX.
(Image courtesy of FOX)
Follow Todd on Twitter @TopicalTodd