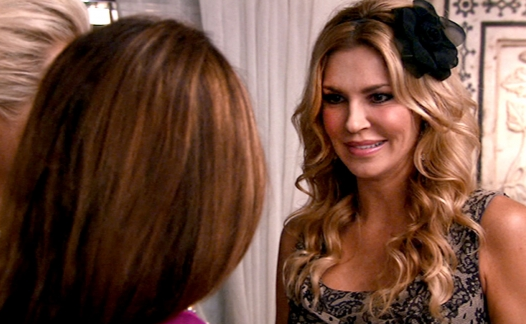 by Gina Scarpa
The Real Housewives of Beverly Hills are back! Normally, you can find me hanging out in the OC, but I'm venturing over to get to know the ladies of Beverly Hills a little bit better in their third season.
We start things off with Lisa, who has just moved into a new (and fabulous) house. Brandi is the first housewife to visit and bring a housewarming gift, and gets the grand tour. The house is much more open and warm than her previous one - and you can't beat that view! It's quite odd that Brandi wants to have sex with Lisa's husband, who wants to have sex with his wife, who wants to have sex with nobody. Is anyone else creeped out by Brandi's sexual gifts for the pair because goodness knows I am!
Lisa has an anniversary party for Villa Blanca coming up and invited all of the women, with the exception of Adrienne. There's still bad blood between the two from last season's reunion about whether or not Lisa sold stories to the tabloids about them. While Adrienne is out to dinner with her husband Paul, she gets a phone call from Taylor asking her to go shopping for a dress for the party... to which she is not invited. Talk about awkward.
Kyle and Kim are still working on their relationship, following Kim's stint in rehab. Kyle is distracted from that by her husband Mauricio's gift of a brand new car that probably costs more than my condo. Yay! No more mommy car for Kyle! On to Kim, whose daughter is about to get ready for prom so Auntie Kathy Hilton has come over to help choose a dress. Kyle pays a visit to see how things are going and it seems there are still unspoken issues between these sisters that need to be hashed out.
Time to meet new housewife Yolanda, who hails from Holland, and is a former model. I was impressed with Lisa's new house, until I saw Yolanda's, which she designed herself. It's seriously breathtaking. Her husband is famous songwriter and composer David Foster. THE David Foster that's worked with Beyonce, Madonna, Mariah Carey, Prince, and the list goes on. Reality fans may remember him from his appearances on American Idol, Nashville Star, and other similar shows. David writes Yolanda love notes instead of buying her jewelry which is adorable - and pretty impressive, considering this is Beverly Hills. I thought diamonds were the norm!
Leading up to Lisa's party, it's clear the drama is bubbling at the surface but first, let's talk about a much sweeter party on the horizon. Kyle's daughter Portia is about to turn 4 and wants to invite the guests herself, making adorable phone calls to fill them in on the details. When little Portia dials Lisa and gets her on speakerphone, Brandi ends up overhearing and getting invited by accident. Perhaps these two are on the mend...
Taylor is still reeling from Russell's unexpected death nine months ago, and meets up with Adrienne to catch up (and shop, of course). It's not long before the topic of Lisa's party comes up, and naturally, Adrienne is hurt by being left out. The party goes on without her a few nights later, where Yolanda makes her big debut and Kim parties sober-style.  Brandi's unfiltered comments about sex don't leave a good impression with Yolanda, but Brandi is an acquired taste.  These two will need to get to know each other a little bit better before deciding whether or not they can be friends.
An argument starts to brew at the party over whether or not Kim is going to Portia's birthday party.  She's her aunt after all and should be there!  Yolanda breaks the tension by introducing herself to the ladies, and mentioning Brandi's comment that she slept with everyone in Beverly Hills.  Nothing brings people together like a common enemy.  Speaking of enemies, Adrienne sends over a floral arrangement to Lisa and it seems like it's a cry for attention, not gonna lie.
At the end of the night, Kyle and Kim finally get to sit down and try to talk things out but, as usual, it doesn't go well.  They don't think they'll be able to repair their relationship and I think they need to go to group therapy.  Who's with me?!

The Real Housewives of Beverly Hills airs Mondays at 9/8c on Bravo.
(Image courtesy of Bravo)

Follow Gina @ginascarpa