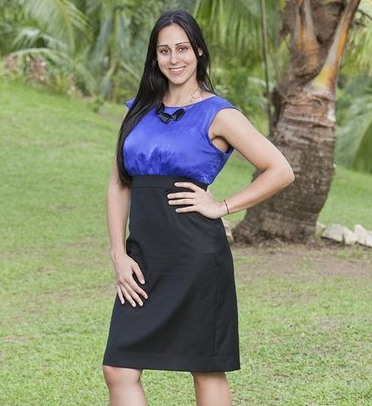 by Gina Scarpa
Survivor fan RC came out of the gate playing strong this season, which contributed to her downfall after the merge last week. Early on, she formed a tight alliance with returning player Michael, and added Abi-Maria and Pete to her group as well. That alliance split soon after, leaving Michael and RC on their own. It seemed the physically fit pair would be a good duo to bring into the Kalabaw alliance post-merge but they were swayed by the members of Tandang and sent RC packing at tribal council. We talked to RC today to find out more about her experience playing the game, her thoughts on Abi-Maria, and why the merged tribe went after her first.
Q. Gina, RealityWanted: What characteristics did you feel that you had that would make you a strong Survivor player?
A. RC: I have been a huge, huge fan of Survivor since the very beginning. I'm a very old school player. I'm loyal, I'm strategic, and the whole surviving aspect on your own... being an athlete and having this edge made me want to play and test myself. What made me think I'd be successful is that I don't give up. As a technically old school player, I thought I'd be valued. It's funny that those aspects of my personality ended up being a big threat to the "new school players".
Q. Gina, RealityWanted: Michael Skupin seemed to fare better with your tribe than the other two returning players did with theirs. Was he your first choice of the returning players?
A. RC: Yeah, I mean I was certainly very happy and you can tell because I made an alliance in two seconds. Michael played with such integrity the first time around. He's a variable. I've seen him play and I didn't know about anyone else, they were a big question mark. I wanted to team up with the returning player. I didn't see them as a threat at all, I saw them as an added benefit. I feel a lot differently than Jeff Kent did.
Q. Gina, RealityWanted: Speaking of Jeff, did you ever figure out that he was an MLB player or not until you saw it on tv?
A. RC: No! I'm not a baseball fan at all! Obviously I talked to him and I love him. He's a great athlete, one of the best in our generation, really. It's amazing that I got to meet and talk to him on a personal level.
Q. Gina, RealityWanted: You teamed up with Abi-Maria early on which ended up not being a great decision, given how volatile she can be. Do you regret forming that alliance?
A. RC: It's hard because I live without regrets. Even looking back still, I think on paper it was a good decision. When you get to know Abi, you know it's a very bad decision. It wasn't the decision itself, I think it was me that was the catalyst. Abi was very threatened by me because I represent what she isn't in life and in the game. She had every reason to hate me and I don't blame her for that.
Q. Gina, RealityWanted: Were you aware that Pete was trying to drive a wedge into your alliance?
A. RC: Oh, it was so obvious out there. You can't get the dynamics on television but everyone on Tandang played with their cards up. The problem was that I had non-thinkers with me. I needed people to see it made sense to team up with me and Michael. Why would you wanna be 4th or 5th in the alliance instead of being 3rd of 4th? We had non-thinkers.
Q. Gina, RealityWanted: It's amazing how Malcolm and Denise were split from Matsing and ended up doing very well on their respective tribes. Why weren't they voted out immediately?
A. RC: I think that people get really, really focused on one person. Jeff was so focused on Penner that they missed Denise. My tribe was so focused on me that they missed Malcolm. They weren't strategic, smart people to get that concept. Me and Michael had no choice because no one would talk to us or have a logical, rational conversation. We had no choice but to try to turn on the new guy but that's not what I wanted to do at all.
Q. Gina, RealityWanted: So the tribe merged on the last episode and it seems like such a great time to get rid of a threat like Malcolm, Pete, or Penner. Yet, you're the one who was voted out.
A. RC: I think it was a compliment. There's a scene where the four boys are saying what a threat I am and how dangerous I am. I can't believe I put such fear in these people. I came off very strong in challenges and I think everyone was very afraid that I might go on an immunity challenge win, especially if it was water related challenges.
Q. Gina, RealityWanted: Was your elimination a surprise or were you aware it was coming?
A. RC: No, I definitely knew it was coming. I knew I was going to get votes, Pete was going to get votes, and Penner was going to get votes. I thought I had turned Kalabaw over to my side. I thought it was a done deal. Why would they want to be the bottom of the major alliance? It's like the stupidest decision! I knew I was on the chopping block but I thought I was at least working with smart people. I also had no real options within Tandang. I had 17 days to try to make something work, and it didn't happen.
Q. Gina, RealityWanted: Were you bitter about being eliminated first after the merge or were you okay with it?
A. RC: I was definitely okay with it all because I got to live my dream. Survivor was this huge dream of mine. To get picked, to get out there, even if I spent three days, it would've been the best days of my entire life. I can sit here with a big smile on my face and say I accomplished something that people only dream of doing. I'm so thankful!

Survivor: Philippines airs Wednesdays at 8/7c on CBS.
(Image courtesy of CBS)

Follow Gina @ginascarpa