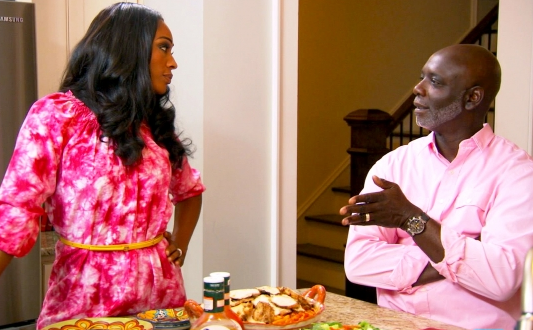 by Jessica Blackwell
Tonight was the season five premiere of Real Housewives of Atlanta. I'm new to the show, so my opinions will be fresh ones. They recently had a cast shakeup and welcomed some new peeps. Let's catch up with all the housewives! 
Cynthia Bailey is the mother of a 12 year old daughter named Noelle, and a successful supermodel. She founded the Bailey Agency School of Fashion and looks to seek out talent in Atlanta. She has been married to her husband Peter for two years. 
Phaedra Parks is mom to a three year old son named Ayden and she's a very ambitious woman. Along with her law degree, she has decided to add  a mortician's license to her resume so she can coordinate funerals in a designer fashion similar to the way Vera Wang dominates the high end wedding dress market. Her goal is to break into what she calls a new market for pet funerals. 
The Grammy award winning singer/songwriter Kandi Buress is another regular back for the new season, and she is dating television producer Todd, whom she just bought a home with. 
Newbie Kenya Moore is a self professed hustler, who acts, produces, and was the second black woman to be crowned Miss USA. She's new to the show and she admits that she likes to win at everything, so I can see plenty of drama coming from her this season. She recently moved to Atlanta to be closer to family after living in LA for 18 years. She's dating a man named Walter, but wants to get married soon and settle down. 
NeNe Leakes is probably the most famous of all the Atlanta housewives. Her strong personality and no nonsense attitude has landed her roles not only in the housewives franchise but on Celebrity Apprentice, Glee, and most recently, a recurring role on the new hit show, The New Normal. She's currently navigating a tense relationship with her ex-husband Greg, who is determined to win her back. 
Porsha Stewart is married to NFL football player Kordell Stewart and is well known on the Atlanta social scene. We didn't see her on the premiere, but I look forward to learning what she's all about! 
The newlywed Kim Zoliak  is mom to a one year old son and pregnant with child number four, and number two with her NFL baller husband Kroy. She's currently trying to find a new home to move into, since she decided not to buy the house she's been leasing. 
Now that we've caught up, here is some of the drama that went down this episode! 
Cynthia had some hard decisions to make regarding her daughter's education since she is currently being homeschooled. Leon, her ex, feels that Noelle should be in school with other children, and Noelle agreed. Looks like someone's going back to school! 
Cynthia enlisted the help of Kenya, the former beauty queen, to assist her in the first open casting call for Jet Magazine's beauty of the week. Cynthia took to the kinder route, nicely informing the rejected ladies that they were not right for what they needed. Kenya definitely showed her mean girl potential, rudely asking one girl why she was even in attendance, and reminding another to shave before wearing a bathing suit. She embarrassed Cynthia in front of her client, and I think she definitely regretted asking her to come along. Her attitude was a little bit much for Cynthia's assistant who rightfully told her about herself, but then was confronted by her rather large security guard. I'm still not sure why she needs a security guard, but thankfully, the confrontation ended before it got too serious. 
Kim went to visit Kandi's new home, and dubbed her neighborhood "the hood" despite the fact that it's a gated community with mansions and the mayor lives around the corner. She made some rude comments to Kandi about her house, probably because she's pregnant and cranky, but still, they were rude. 
From what I can see, it looks like we're in store for plenty of drama this season. Stay tuned! 
The Real Housewives of Atlanta airs Sundays at 9/8c on Bravo.
(Image courtesy of Bravo)