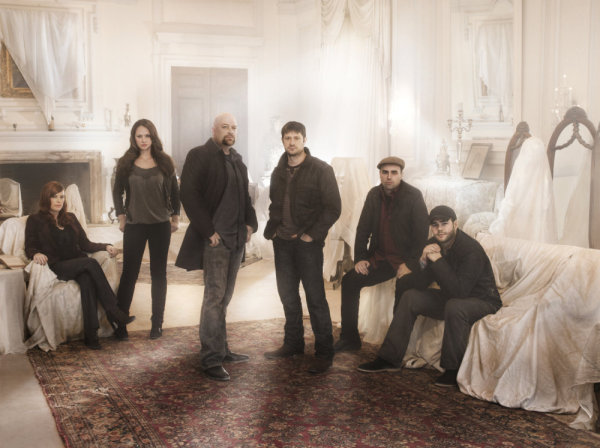 by Chad Alan
"Curtain Call"
Rialto Square Theatre - Joliet, IL
The Rialto Theatre is a perfect blast from the past when it comes to old school theatres.  Architecture inside and out can take back a visitor back in time before disturbing cell phone ring tones went off at the worst time during a live performance.  Since the 1920's, many famous entertainers have taken the stage at the theatre and it's certainly possible that the spirits of many of them have never left.  Theatres and Hollywood studio sets are famous for paranormal activity as so many former entertainers seem to want to cling on to their famous past at places where they did their best work.  Workers and visitors have seen shadow figures and objects move.  A ghost boy they named "Kevin" has been seen by many and the caretakers seem to feel it's a boy who was hit and killed by a car right in front of the theatre.  Kevin is said to pull at peoples clothes, giggle out loud, and run up the stairs of the lobby.  An apparition of a women dressed in white makes an appearance from time to time and another women is said to be seen sitting at the stage organ.  The paranormal activity has been so rampant that some workers have actually quit.  Got your popcorn ready?
TAPS co-founder Jason Hawes and Steve Gonsalves spent a considerable amount of time in the auditorium and were constantly being interrupted by noises coming from the balcony area.  When they finally made it up there they caught a black shadow with their video camera.  They decided to take a seat and start an EVP session, hoping to make contact with any spirits that may be looking to communicate with them.  Noises coming from the stage area grabbed their attention and these noises were caught on their audio. When they played back their audio after the investigation, they did find a few moments where a young child seemed to be trying to say something but it was really hard to understand what was being said.  One slightly disturbing sentence that they were able to make out was a young boy's voice saying "My name isn't Kevin."  To be fair, there was never a clear identity of the real name of the boy involved in the deadly car accident in front of the theatre but there does appear to be a spirit of a young boy in the theatre.  They also caught a child's laugh on their audio.  I'm guessing from the same source of the boy who didn't want to be called Kevin. 
Britt Griffith and K.J. McCormick spent time investigating in the lobby, or "Rotunda" area outside the auditorium.  Multiple times they believed they saw some type of small figure cross across their visual path.  They were not able to catch any of it on their cameras though so it could only be counted as a personal experience.  They hit the main stage and placed a ball on the ground to try and get the attention of the ghost boy "Kevin."  As they called out for him, the equipment they had placed on the floor by the ball started to register activity.  Some type of energy had entered the area but no other communication occurred.
Newbie investigator, Ashley Troub, and Adam Berry took the main stage and tried their best to contact "Kevin."  Adam mentioned that he actually performed at the theatre as a small child and busted out a song.  Just as he finished a few lines of his song, a stream of shadow figures kept grabbing his attention throughout the theatre.  Ashley also saw something streak behind the rows of seats in the back of the theatre.  The workers are not crazy, these shadow figures are legit. 
One final piece of evidence that was caught by one of their unmanned cameras was a white shadow figure of a person in one of the balcony exits in the Rotunda area.  Steve called the video capture the "Holy Grail" for paranormal researchers.  TAPS believed there was paranormal activity going on in the Rialto theatre and those watching from home would have to agree.
And yes, Amy Bruni did have her baby!  Congrats Amy and baby daddy. 
Ghost Hunters airs Wednesdays at 9/8c on Syfy. 
Check out the archive of past show recaps here!
(Image courtesy of Syfy)