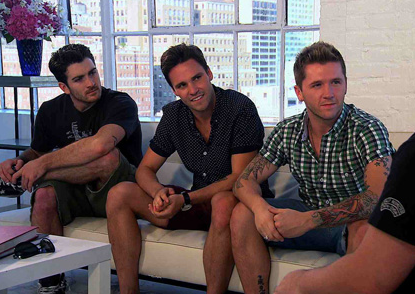 by Gina Scarpa
Great news for the guys of Shaping Sound on the season finale of All The Right Moves - their agent gives them a call to let them know they'll be performing on Dancing With The Stars! But with the performance right around the corner, they need to come up with a concept fast. Travis decides to go with a theme of clouds and dreams, and wants to fly a dancer during the piece. The perfect person for that role? Jaimie, who is still recovering from her injury but is ready to dance. He surprises her with the news at her birthday party and I'm pretty sure she couldn't ask for a better gift. If you didn't catch the piece when it aired earlier in the year, you need to watch it!! Set to a classical version of "Without You", it's absolutely breathtaking!
After a Shaping Sound class at Crunch, Jaimie tells the guys that Taja lied about being pulled over the day that she was hours late to rehearsal. That's the last straw and finally, FINALLY, Taja is out of the company.
The Dance Awards are coming up in New York and the guys are flown out for a meeting with Gil Stroming. Since he's not a founding member, Kyle isn't invited to the meeting itself so he kills time by meeting up with a friend who offers him a room and maybe even a job. With Kyle's growing frustration with how things are going in L.A., he may just take him up on it. Gil gives the guys an offer they can't refuse - a national tour for Shaping Sound, with the possibility of a world tour! There's just one catch. It's a two year contract, which means none of them will really be able to take on any other projects. Can't you just feel the panic running through Travis's bones?
When Kyle finds out the news, he basically says he doesn't want to stay with the company unless he's going to be promoted to co-director. Oh yeah, he threw it down like that. He has the support of Teddy and Nick, but Travis needs some time to think about it. He's in full meltdown mode as he heads back to L.A. to choreograph for SYTYCD. He definitely needs a little time to himself. The guys stay behind for the awards, along with Jaimie, and end up running into Taja there. She apologizes but if she's going to have a shot at coming back, she needs to talk to Travis.
Shaping Sound throws a party to announce the tour, and Taja shows up to talk to Travis. It's neither the time, nor the place, but you know she doesn't care. She tries to blame her lies on not being able to trust him and he shuts her down, saying he needs to think about letting her back in. Way to stand up for yourself, Trav! Right before the guys announce the tour, Travis has another little meltdown because he's going to need to give up a lot but it's for something good. He's always wanted to go on tour with his friends and it's an amazing opportunity for the company.
In the end, he decides to go with the flow AND agrees to Kyle becoming a co-director. Yup, life is pretty good for these four. Now, how can I get tickets to this tour?!
(Image courtesy of Oxygen)
Follow Gina @ginascarpa