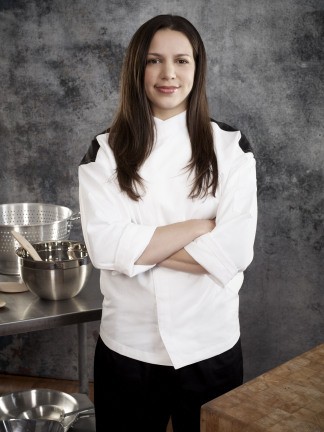 by Todd Betzold
Last night was the season finale of Hell's Kitchen and it was down to Christina Wilson and Justin Antiorio in the final dinner service. While they both had their issues and some problems, both got through the dinner service without many scars. The choice was up to Chef Ramsay and he decided to go with Christina as the winner of Season 10! Today, we spoke to Christina in an exclusive interview about her time in Hell's Kitchen, what it meant to win this season, when she starts at Gordon's Steakhouse in Vegas and much more.
Q. Todd, RealityWanted: What made you decide to try out for Hell's Kitchen?
A. Christina: It was essentially a job interview with a $250,000 salary, so it was an opportunity that doesn't come along often so I thought half of it is just showing up, so let me just show up and see what I can do with this.
Q. Todd, RealityWanted: You won the last challenge against Justin going into the final dinner service. Were you feeling confident heading into the final dinner service after that win or did it not change anything for you?
A. Christina: No, it didn't really change anything. Quite honestly, I looked back and I don't know why I thought for a second that Chef Ramsay was giving us a day off and treating us to a show. I was truly surprised. I had seen the show before. I know what the format is. I know there is always a final challenge, but it didn't even cross my mind that day. To go down to that third dish, I felt 100% confident in my steak entrees, but I knew that was Justin's specialty fish and I was a little bit nervous and there was the possibility that I could get swept. I kept looking out into the crowd, and my Mom told me later that people were cheering for me, but all I could hear was everybody yelling Justin, Justin. My face was getting red and I was starting to sweat a little. I think coming off that final challenge and that whole day was so up and down, I didn't feel more confident that I beat him in the actual challenge, but I did feel more confident in my team than in his.
Q. Todd, RealityWanted: How did you feel about your team for the final dinner service: Dana, Patrick, Kimmie and Robyn?
A. Christina: They did awesome for me. I gave them a really difficult menu to get prepped out in one day to turn out in service. I really buried Dana and I spent all season long cooking along side of her and I knew she could handle it. Quite honestly, I put a ton of weight on her and even though there were a few hiccups, she carried it so well for me. Patrick was amazing. Because the kitchens were divided, I didn't see what he did on the Blue side, but I know how he was in the dorms. People just responded to Patrick and I told him I need him on garnish because when my back is turned to the kitchen I need you to be my voice and be my leader. Kimmie and Robyn, despite their differences throughout the season, best friends fight, bosses and employees fight, girlfriends fight, boyfriends fight, Even though they got into some really heated arguments, I didn't think it was enough to break their friendship and I know how much more at ease I feel in the kitchen having Dana on set and I felt having Kimmie and Robyn on that side working in tandem would be a good pair and obviously it fared well for me. Given the chance to pick four people off the top, I would probably have picked those four people.
Q. Todd, RealityWanted: What was it like working in Hell's Kitchen and under Chef Ramsay and all the chaos/drama with the other chefs? What was that experience like for you?
A. Christina: It was really difficult, a lot of fun most days. I live for that. I love the anxious feeling. I love getting buried. Everyone knows that when we have 20 or 30 tickets on the board, you have to be efficient and work it out and your order of operations has to be as efficient as possible and I love that feeling and I'm almost like a junkie for that. Under Chef, he has such high standards and he doesn't let the smallest thing go by and you're never going to sneak something past him. Working with all the different personalities was difficult, but about three or four episodes in I realized don't be a part of it and don't let it affect you. Keep your head down and work and I had to tune them out and be accountable for the food that I was put in charge of in the kitchen and not worry about what other people were doing.
Q. Todd, RealityWanted: You did manage to stay out of the drama that happened, which normally doesn't happen, so good job on that.
A. Christina: Thank you. If my Grandma was still alive, I would have high-fived here with the biggest one I could because she instilled in me how to have grace in situations where you are under a lot of pressure or where it is uncomfortable or just not a desirable place to be. I think I would have made her proud. I tried to be as graceful as I could with it because it got really nasty at times.
Q. Todd, RealityWanted: Have you started working at Chef Ramsay's Steakhouse in Vegas yet?
A. Christina: No, tomorrow will be my first day. I have interviews all day and I'll get to go on-set and just see some of the production people that I spent some of the most intense months of my life last year with and get to say hi and see what the set looks like this year and kind of get that feeling back. I'm excited for that and I fly out early from L.A. and I have a full workday ahead of me. Some of it is press and while it is not sweating in the kitchen, it is still a lot of work and you are still putting yourself out there and it is demanding, but I literally start training right away and I'll be in my chef whites by tomorrow afternoon.
Q. Todd, RealityWanted: How do you feel you'll adjust to life in Vegas?
A. Christina: I don't know. I'm a little bit nervous about it. One of the things that helped me survive the show and go on to win it is I'm pretty resilient and I adapt quickly. I come from a small town, Phillipsburg, NJ, and then going to going to Philadelphia and even though it is one of the bigger cities in the country, it is very neighborhoody, so you get this non-city feel to it and now to go to the bright lights of Vegas, I'm definitely walking to the complete other end of the spectrum and I've also never worked in a corporate kitchen and I've never worked with more than three people on my line, so it's a whole new animal for me and I'm excited to embrace it and learn something new.
Q. Todd, RealityWanted: What's the best part about winning Hell's Kitchen?
A. Christina: The best part is knowing that if I put my mind to something, if there is something that I really, really want that is within my reach, that I have the drive, the passion and the talent to go get it. There was a lot of pushing and it was mentally straining, emotionally challenging and physically this job is not easy on anybody, but it just confirmed that I've always been a natural competitor being the youngest to three older brothers. I always said one time I get this life. I get it one time in this body. I'm going to make the best of it, so I'm really glad I can set goals and achieve them.
(Image courtesy of FOX)
Follow Todd on Twitter @tbetzold