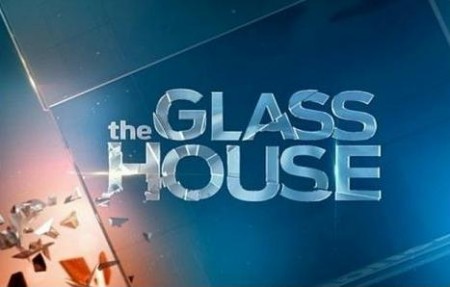 by Kylene Hamulak
A lot has happened since we last visited The Glass House, so to set things straight for the grand finale - where one player will win $250,000 - we also need to catch up on what we've missed on the webisodes.
For anyone who decided to watch this show for the first time tonight, we get a complete season recap for Kevin, Andrea, Erica, Mike and Jeffrey. Here's my recap of the recap: Kevin is a charming playboy, Jeffrey is a lucky sacrificial lamb, Andrea is Mormon, Erica is lovesick for Kevin, and Mike is a villain turned softie. That about covers it!
Let's cut to the drama: it's still all about Kevin and Erica. Jeffrey took the opportunity to tell Erica about Kevin's "lady friend" in Toledo, while Kevin wants everyone to know he never said anything about actually having FEELINGS for Erica. (Cue the tape of him talking about exactly that.) I gotta say, I really enjoyed them together when this all started, but yes, I'm side-eyeing them both by this point.
Everyone seems pretty tired of Erica's crush, so the alliance puts a plan in motion to give her enough to drink to start her inevitable yelling. Since the others are all pretty sober, they just let her rant about how much she likes Kevin. She calls him out, and Kevin is like, "Ummmm....I'm on a game show. And I want to win." Which makes Erica cry. And it's like I got in a time machine and travelled back to a middle school dance.
Know what's missing? A girl fight. It comes while Erica, who is clearly jealous of Andrea's friendship with Kevin, starts accusing Andrea of being "a snake in a peasant dress." So this won't be uncomfortable at all. At least not as uncomfortable as Erica's talk with Kevin where she seems almost reasonable, and yet....still a little crushy.
So anyway, The Wall calls all the players back for their "graduation", which also includes a roast by each player. Erica is actually really funny and wins my vote back on that.
As this IS the finale, and there will be only three to reach the end before a winner is crowned, two of our five current players will be saying goodbye soon. The first elimination takes over where last week's episode left off with Erica and Mike in Limbo. Who do the viewers want to stick around? Erica! Mike waves goodbye to the Glass House and $250,000.
With four competitors left, they will face an individual challenge, flying harnessed from one platform to the other to install puzzle pieces. The winner is guaranteed a spot in the final three. It goes neck and neck down to Andrea and Jeffrey, but Jeffrey swapped two pieces incorrectly - Andrew is the first contestant to join the final three.
The next elimination comes down to viewer votes to decide whether Erica, Jeffrey, or Kevin will miss out on making the final three. Erica is the first to hear that she's safe, with Kevin and Jeffrey sent to the Limbo box. So who is staying to join the ladies? It's Kevin, but Jeffrey leaves the House proud of making it to the top 4.
After the top 3 are treated to a steak and lobster celebration dinner, they are in for another surprise - they find out they've been streamed live to the viewers more often than they realized. I'm a little surprised and confused by the revelation because I thought they DID know it was happening, but that's beside the point. They're absolutely mortified to see clips from throughout the season.
It was harmlessly funny for a while...but then Kevin gets really defensive. And Erica gets pissed. And Andrea feels bad. Whoops. Nice going, Wall.
But then it's time for the last act of the finale. As the three - all cleaned up and looking lovely - arrive in the common area of the house, balloons block their view through the windows. Until - BOOM! - they dramatically pop to reveal a whole yard full of their friends and family and probably a few hundred extras cast to make the finale look exciting. I also need to ask - why is Erica carrying that cat? Weird.
They're all really overwhelmed to see their families as they give their final pleas for votes, and the excitement builds as the players cast their final stones.
Really? This "casting stones" thing is the stupidest thing on the show, did we REALLY need it for the finale?
Well, whatever. They cast their finale stones, and the windows with Erica and Andrea's faces on them smash, leaving only Kevin's in tact.
The winner of the first season of Glass House is Kevin, the Toledo cop. He talks about how he intends to use the money to help his family, and Andrea seems genuinely happy for him, wiping her daughter's tears and telling her to congratulate Kevin.
(Is it weird that, watching Kevin's family, I was preoccupied trying to figure out which one was his not-a-girlfriend?)
Let's hope they rework the "casting stones" elimination procedure before season two!
(Image courtesy of CBS)