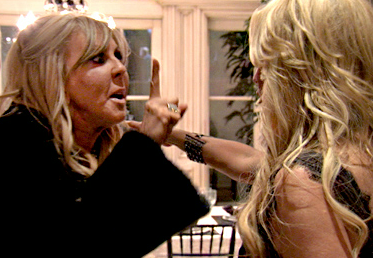 by Gina Scarpa
If you thought the bow eating incident was the most dramatic thing to go down at Heather's naming party on The Real Housewives of Orange County, you have another thing coming! Let's wrap up that nonsense first, shall we? Since Sarah won't stop talking about the damn bow, Heather finally has had enough and tells her to leave the house. Alexis jumps in and gets loud because she says she doesn't understand the problem (SHE ATE THE BOW!) and finally, Gretchen handles it and escorts her out. Good riddance.
Jim shows up unexpectedly but not really to surprise Alexis as much as to confront Terry about the phony comments. He's heard that Terry called Alexis "the phoniest person I've ever met" which is an exaggeration. Heather steps in to defend Terry but when Tamra joins the conversation, Jim has had enough and takes off, leaving Alexis in the dust. I thought he was there to defend her! Alexis literally has to run down the street in order to flag him down, jumps in the car, and takes off into the night.
But hold up, the drama is just getting started! When Vicki makes a toast to Alexis, Brooks feels that Tamra rolled her eyed at his woman and he's not having it. He says to Vicki over and over that Tamra gave her "the evil eye" (a sore subject if you remember the Gretchen/Tamra fight from last season). Gretchen fuels the fire by saying there's something that needs to be addressed between Tamra and Vicki. When Tamra asks Brooks what his problem is and that he should stop telling Vicki what to think, Vicki absolutely melts down. She runs through the house screaming like a maniac and storms out.
When Brianna steps in to ask what happened, Tamra fills her in but Vicki is too concerned about the two talking so she asks Ryan to bring her daughter outside. That guy probably had no idea what he was getting into when he took Vicki's daughter through a wedding drive thru in Vegas. It's clear that everyone has a problem with Brooks and that Vicki is willing to sacrifice all relationships in favor of her man.
Heather comes out and asks Vicki to come back inside so that she can do her special toast and the couple agrees. After Heather makes a heartfelt speech about having new and old friends, Vicki says that she's with Brooks and everyone can either get on board or get out. Jeez! What is wrong with her!?
Things do end on a positive note, though, with Heather appreciating the fact that the ladies have gotten her to do things she never imagined and loosen her up a bit.  They're all about to come to blows though, because there's an explosive reunion on the horizon... will these friendships be able to stay intact?

Don't miss the reunion of The Real Housewives of Orange County, Tuesday July 10th at 10/9c on Bravo.
(Image courtesy of Bravo)

Follow Gina @ginascarpa