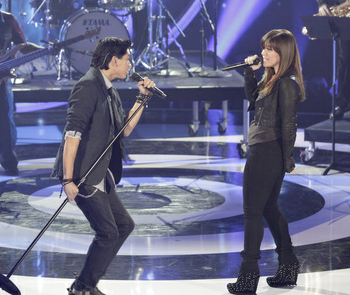 by Gina Scarpa
This week on Duets, the theme is party songs and hopefully, the atmosphere in the theater will finally be pumped up like I've been asking for it to.  After narrowly escaping elimination last week, Jason Farol in particular has a lot to prove but Olivia Chisholm wasn't far behind.  Here's how the performances went down...
Jason Farol and Kelly Clarkson - "I Can't Get No Satisfaction" by The Rolling Stones
Jason kicks off this week's show and he knows that he really needs to step it up. Perhaps the party song theme will help bring him out of his shell - and that's exactly what it does! He seems more relaxed and more confident than we've seen him and Jennifer calls it his best performance yet. Every now and then, you can still catch a glimpse of him overthinking and John reminds him to watch out for that.
Bridget Carrington and John Legend - "Last Dance" by Donna Summer
You know things aren't going well when the background dancers are more interesting to watch than Bridget and John. Sure, the two have some chemistry at times but they're singing "Last Dance"! Where's the dancing?! They gave us a halfhearted step touch at best. Kelly feels Bridget needs to pay more attention to the audience and though Robin loves her passion, he thinks she needs to have more fun. Uh, yeah.
J Rome and Jennifer Nettles - "P.Y.T." by Michael Jackson
The pressure is building for J Rome. He set the bar way high, landing at the top of the charts every week and he needs to deliver. The pair definitely got the party started with "P.Y.T." what with the flashy outfits and energetic dance moves. Yet, it all came off like he was trying a bit too hard to be MJ. Kelly pointed that out too, while John feels J Rome may be getting too used to everyone telling him how good he is and to watch his nasal sound at times.
Olivia Chisholm and Robin Thicke - "Let's Stay Together" by Al Green
Honestly, only Robin could find the most laid back song and try to pass it off as a party song. What party is this? Olivia is so quiet that we can hardly hear her and as John pointed out, it needed more strength. Kelly noticed some pitchiness, perhaps because Olivia wasn't singing with one hundred percent energy, but Jennifer didn't notice it.
Jordan Meredith and Kelly Clarkson - "I Love Rock and Roll" by Joan Jett
Last week, Jordan emerged as someone who can definitely contend this season and had a lot to live up to. While I understand why Kelly chose "I Love Rock and Roll" this week, the song doesn't really go anywhere or give enough for Jordan to work with. Jennifer felt a little let down after the week prior and Robin says he didn't feel the anger or tension he should when listening to that song. Jordan responds by saying it was meant to be fun... should she have talked back?
Meleana Brown and John Legend - "Since U Been Gone" by Kelly Clarkson
Now, this is a gusty move. Not only are you taking on one tough song to sing, but you've chosen a song by one of the mentors. Expectations are gonna be high on this one. Unfortunately for both John and Meleana, neither were able to deliver. John was way out of his comfort zone and Meleana was super pitchy. Kelly pointed out the pitch issues but tried to be nice about it, and Jennifer followed suit by commenting on her strong stage presence.
John Glosson and Jennifer Nettles - "Life Is A Highway" by Tom Cochran
The minute they announced the song, I knew it was going to be a strong choice that fit his voice best, especially considering that Rascal Flatts recorded a version of it. Their voices blend incredibly well and they just had a lot of fun with it. Kelly felt it was the perfect song choice and loved that he was just being him but Robin felt he tried a little too hard.
Here's how the singers stacked up on the charts this week.
1. J Rome
2. Bridget Carrington
3. John Glosson
4. Jordan Meredith
5. Jason Farol
6. Meleana Brown
7. Olivia Chisholm
Meleana chose Whitney Houston's "Saving All My Love For You" for her a capella song while Olivia went with "I Can't Make You Love Me" by Bonnie Raitt. Honestly, both songs had their issues but if Olivia went home, Robin would lose both his partners in a matter of two weeks so we say goodbye to Meleana.

Duets airs Wednesdays at 8/7c on ABC.
(Image courtesy of ABC)
Follow Gina @ginascarpa