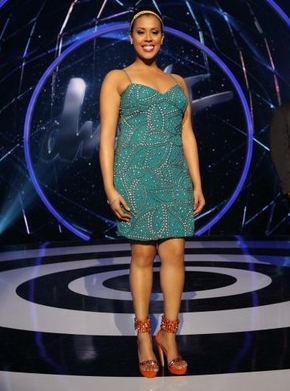 by Gina Scarpa
After three weeks of performances on Duets, the judges were finally ready to make a decision as to who they should send home. Alexis started at the top of the charts in week one but slipped further down with each passing performance. She went head to head in an a capella battle against Jason Farol but lost in the end. She became the first singer eliminated from the competition and we talked to her today in an exclusive interview about her time on Duets.
Q. Gina, RealityWanted: What made you want to try out for Duets as opposed to other talent-based reality competitions?
A. Alexis: Actually, I don't even watch these types of tv shows. Growing up, my friends wanted me to try out for American Idol and I was kinda like, "Eh..." One of my friends showed me, on the ABC website, the ad for Duets. She knew I was a fan of Robin Thicke but I was still kind of iffy about it. I had been away from singing for a while. I just kind of gave up on my dream for a little bit. I just kept making it farther and farther in Duets. I'm taking it as a sign.
Q. Gina, RealityWanted: Being that you were a fan of Robin's, what was it like to get to work with him?
A. Alexis: It was definitely surreal at first. He's a very normal guy and he would always remind me that he's a normal person. He would say, "I didn't make it when I was 21." I had a lot of confidence issues, just being up there beside him. It's Robin Thicke - somebody who has been doing this for years. He was very comforting about everything. Even when I was eliminated, he called me a week after and when the show aired to make sure I was okay.
Q. Gina, RealityWanted: Do you feel like there is more pressure on you and the other contestants, on this show in particular, because you have to sing with these superstars every week?
A. Alexis: Oh, it's definitely more pressure. I've never really sang in a duet and I'm really critical of myself. I had to stop watching. I was like, "I'm so awkward!" When you're singing in a duet, you have to sing with the other person, sing well, and know how to maneuver around the other person.
Q. Gina, RealityWanted: Who do you feel has adjusted the best to singing with their superstar partner?
A. Alexis: I'm probably biased but I love Bridget! I would say her. A lot of the other contestants are very seasoned performers. When I got to know Bridget and learn her story... she was like me. She was going to give up her dream, work a regular job, and she put her foot down and said, "I'm gonna do this!" She always calls me and tells me I have so far to go. I think she's adjusting well. She was thrown into it. She wanted to audition with Lionel Ritchie and it got changed to John Legend. I love watching their chemistry. I try to model her stage presence.
Q. Gina, RealityWanted: You started out the competition pretty strong but then, each week, you feel further down the charts. What do you think happened?
A. Alexis: I'm really critical of myself. I didn't really think I was strong when I got third place. I didn't even think I deserved it then. I was going through a lot with school. I'm not going to make excuses but the last performance was on my graduation day. I don't know. I was kinda missing my family and I was kinda down. My family could never make it out to the shows, being comfortable with my body on stage... Robin would always say, "It's not about being comfortable. It's about being uncomfortable and how you adjust to the situation." I think it was me doubting myself and feeling not as good as Robin Thicke, or as good as some of the other contestants. Looking back on it, I'm definitely more confident. My biggest issue was that I wasn't in it 100% and not believing I could win.
Q. Gina, RealityWanted: You are definitely hard on yourself! I'm wondering if the song choices had anything to do with it. Robin has a very laid back style and that came through in the songs this season. Do you feel like that perhaps didn't cater to you?
A. Alexis: I think, from the very beginning, I was kind of labeled as the gospel singer. I've sung in churches and I think that played a little role in song choices. He wanted me to sing up high but that's not really how I sing. But it was good to discover that part of my voice. Him being laid back was good for me. I don't mind looking at myself to say how I can get better. He definitely wanted me to take things a little bit easier on myself. But I don't think that had any effect on me. A lot of the song choices... me and him sing completely different. He's very soft and I can belt and sing loud. A lot of the song choices were tilted towards his vocal range more than mine, but I didn't mind that. At the end of the day, I have to learn how to adjust more than he does. He already has a style.
Q. Gina, RealityWanted: Did doing Duets reignite a passion for singing and performing?
A. Alexis: Oh yeah, definitely! I'm definitely learning some things about the industry. I guess I'm just going with the flow. It was definitely all a sign. Robin said, "I'm gonna take care of her," but that's not 100% true. I've got to reevaluate things.

Duets airs Thursdays at 8/7c on ABC
(Image courtesy of ABC)

Follow Gina @ginascarpa and "Like" her on Facebook!