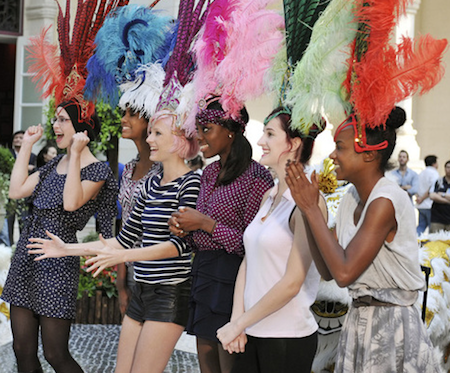 by Gina Scarpa
We're down to the final six on America's Next Top Model and to help celebrate making it this far in the competition, Nigel Barker pays the girls a visit at their house with some Chinese food. Each girl is given a fortune cookie and Nigel opens his last: "Your fortune awaits you in Macau!" Cue the jumping, screaming, and flailing hands, which is brought to a whole new level when Nigel tells them they're leaving NOW.
It's clear that, at this point, the girls have sufficiently gotten on each other's nerves. Laura can't stop complaining that Eboni is vain (though the others agree with her) and Alisha flips out when Sophie moves her things across the hotel room without asking her. Perhaps it's time for a little aura cleansing...
The models meet up with Miss J. and Clement Clan, an astrologer, who tells them what element they are and what element they're missing. His insightfulness causes some of the girls to tear up but this is more than just a feel good moment. Based on what they learned about themselves, the girls have ten minutes to create a look and the winner will receive a spa treatment and bring a teammate along.
With Catherine definitely out of the running for her choice of green lipstick (why?), Laura takes this challenge and has no choice but to bring Eboni along. Instead of eye rolling, the two squeal and hug in excitement. If that's not playing it up for the crowd, I don't know what is.
For their photo shoot this week, the models will be dressed in Barney Cheng silk gowns which sounds beautiful... and then be covered in silk worms. Why does Tyra like to torture her contestants with gross insects time after time? The girls struggled when asked to show emotion during the shoot, but not Laura. She channeled memories of good sex - which is super awkward, considering everyone else went with a broken heart, death, and the like.
However, at panel, it seems Laura's inspiration paid off, as the judges raved about her beautiful and stunning photo. Eboni would've done better, if she had shown more neck. We all know how Tyra values an elongated, beautiful neck. Annaliese is finally starting to show she can pull off high fashion shots, but Sophie's look doesn't work for the panel. Alisha is told that it's not about selling herself but selling the dress, and the dress doesn't look good, and Catherine looks very wooden and stiff in her photo.
Laura is called first (no surprise there), followed by Annaliese, Sophie, and Eboni. That leaves Alisha, who can't seem to remain consistent from one week to the next, and Catherine in the bottom two. Yet, those shining moments are most likely what saved Alisha at the end of the day and we say goodbye to timeless beauty Catherine.
America's Next Top Model airs Wednesdays at 8/7c on the CW.
(Image courtesy of the CW)

Follow Gina @ginascarpa and "Like" her on Facebook!