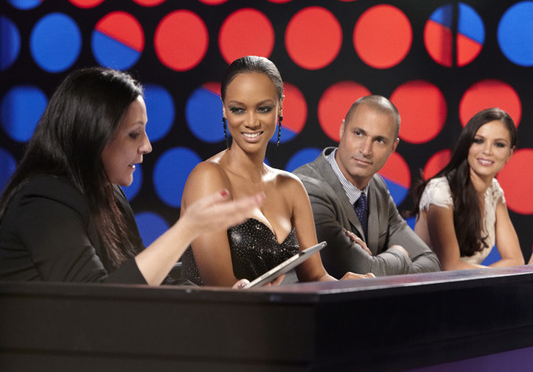 by Gina Scarpa
Once the girls finish their celebration over the fact that Kyle is no longer in the house on America's Next Top Model: British Invasion, they sit down a video by branding expert Martin Lindstrom. Oh yeah, he's back but at least this time, he's not so harsh. Just a little "friendly" advice and things to keep in mind as they head off to the next challenge as the Beverly Hills Hotel.
As if Toronto Fashion Week wasn't a big enough deal, the models compete to open for four fashion shows competing for the Dorchester Collection Fashion Prize. Even if a girl isn't chosen to open the show, she still gets to walk. It's a win-win for everyone! Well, especially for Alisha, Annaliese, and Sophie, who books two shows. Catherine may have had a shot, had she not fallen over during her audition walk, which horrified Kelly Cutrone. Seymone and Eboni sulked in a corner, while the others embraced the opportunity in front of them. Alisa's designer, Anndra Neen, ends up winning the $40K prize, which means she is the winner of this challenge and gets 2 nights in any Dorchester hotel for her prize. Live it up, Alisha!
Back at the house, Tyra Mail awaits them and when she uses the word "purr-fect", the girls wonder if they'll be posing with a lion or a tiger. Nope, just Hello Kitty! Totally better! The outfits are couture that took three months to construct and teen photographer Anne He (winner of Seventeen magazine's Pretty Amazing contest) is on set to capture the models' best shots. There are those who work well with the over-the-top outfits, like Alisha and Laura and then there are people like Seymone, who outright admit to wanting to throw the outfit across the parking lot.
Georgina Chapman, of Marchesa (love her!), sits in on panel this week. Nigel calls out Seymone for having Modeling 101 pose and nothing too interesting to write home about. Laura's photo went over well but it seems at this point, we've all seen her weird, bendy angles. It's time to change it up a bit! Eboni needed to be a little more playful and fun, Catherine was compared to Linda Blair, but Alisha's photo was so fierce that we could open a magazine tomorrow and see that staring back at us. Sophie and Annaliese were complimented for their bodies, but both lacked amazing facial expressions.
Alisha was called first, followed by Sophie, Catherine, Laura, and Annaliese. Eboni and Seymone land in the bottom more for their attitudes than their photos. Tyra doesn't feel either embraces the experience or opportunity given to them and are resistant to the feedback they receive. She feels, though, that she can perhaps better get through to Eboni and so, we say goodbye to Seymone. Was that the right choice?
America's Next Top Model airs Wednesdays at 8/7c on the CW.
(Image courtesy of the CW)

Follow Gina @ginascarpa and "Like" her on Facebook!