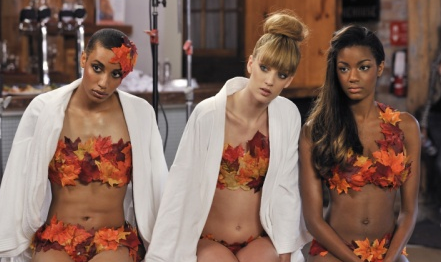 by Gina Scarpa
It's down to the final ten girls on America's Next Top Model and Kyle has mustered up the strength to continue on in the competition. Unfortunately for her, her fellow models haven't forgotten her little meltdown and feel like if she hasn't gone yet, she should next. Let's put the drama aside as Jay Manual sends a video message to the girls, inviting them to Toronto Fashion Week.
Among the designers at Fashion Week is non other than Jay Manuel himself and he chooses Laura, Kyle, AzMarie, and Sophie. At the rehearsal for Pink Tartan, Kyle and Laura get cut from the show. Even worse, Seymone, Ashley, and Catherine didn't book a single show. Fashion is brutal!
Back at the gorgeous One King West hotel, Tyra Mail arrives that talks about sticky and sweet - oh, they're totally going to be covered in something. Before we get to the photo shoot, Jay announces that Eboni and Sophie are the winners and win pieces from his line and a trip back to Canada for a rodeo. Wait, a rodeo? That doesn't exactly seem fierce and fabulous.
In this shoot, the girls are dressed in nothing but leaves and then drenched in organic maple syrup. Sophie goes first and sets the bar, modeling through the syrup instead of being distracted by it. After all, it's in their hair, ears, eyes, everything! In the middle of the shoot, Laura breaks down over the loss of her friend just weeks before the competition, then pulls it together to get that all important shot. On set, it doesn't seem like anyone struggles but panel will tell the real tale of who stood out.
Designer Beverly Johnson sits in on the panel, and the American girls really kill it. None of them got negative feedback and it seems safe to say they'll all make it through this week.  Some of the Brits, on the other hand, are not so lucky.  Eboni is called first, followed by AzMarie, Sophie, Seymone, Laura, Kyle, Alicia, and Annaliese.  That leaves Catherine and Ashley in the bottom - the two British girls who didn't book a single show.  However, Catherine's photo made an impression on the judges and that saved her at the end of the day.  This week, we say goodbye to Ashley.  

America's Next Top Model: British Invasion airs Wednesdays at 8/7c on the CW.
(Image courtesy of the CW)

Follow Gina @ginascarpa and "Like" her on Facebook!