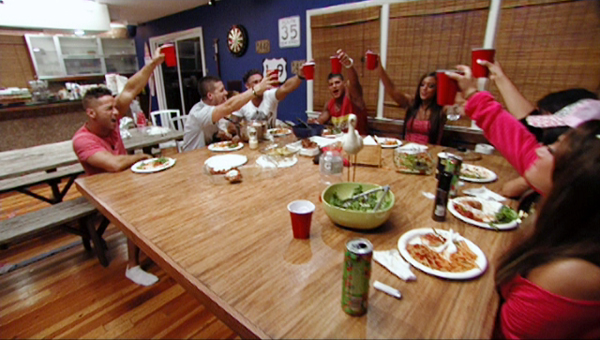 by Danae Young
This week on Jersey Shore, the summer comes to an end and once again it's time to say goodbye for now to the guidos and guidettes. 
The roommates got back from camping to find the house turned inside out by Vinny and Pauly. Everybody was shocked, but still thought it was a hilarious prank. The Situation was the only person that was legitimately pissed. It was going to rain that night so everyone rushed to get all of their stuff inside before the rain hit. Mike was being really stubborn about the entire thing. He wouldn't bring any of his stuff in so it got wet and he claimed it was all ruined. He was being a baby the whole time as if he was the only one that got pranked. Pauly ended up giving in and helped him bring his stuff inside just to get him to stop complaining. 
Mike's brother, Frank, and Deena's sister, Joanie, are still dating. Mike found out that Joanie has a special sexual talent. Of course with that kind of information he can't keep his mouth shut so he told Snooki about it. 
Vinny met some more lesbians when they were all out at Jenkinson's. The lesbians wanted to pick a girl out for Vinny to take home with him, but Vinny had other plans. He wanted to take the lesbians home with him and do the impossible: turn them straight. Vinny just wants what he can't have… or can he? Somehow Vinny managed to convince the lesbians to not only come back to the house but to even have a threesome with him! It took awhile to get Ronnie to give up the smush room for a few hours but finally Ronnie agreed and Vinny got to mark lesbians off of his "to do" list, if you catch my drift. 
At Jenkinson's that night Joanie showed up so Snooki felt like she should probably tell Deena what she had heard from Mike about Joanie. Back at the house later that night Deena confronted Mike about what he told Snooki. He denied ever telling anyone but he did admit that he had heard that nasty stuff about her sister. 
The next day there was a huge storm. All of the lights went out in the house and Deena wouldn't stop screaming. Once the tornado sirens went off in the town, Deena was convinced a tornado would take her away just like the scene in The Wizard of Oz. Even after all of that everyone still went out for their last night at Karma. Frank and Joanie showed up so Deena wanted to confront Frank about telling Mike Joanie's special talent. Once Deena saw how happy Frank and Joanie looked together she didn't want to spoil that with stupid drama. What a great sis!
Sammi went out and bought water balloons to get Pauly and Vinny back, so she waited until the perfect moment to bust them out. All of the boys went out on the deck to fly kites so that's when Sammi, Snooki and Deena went out onto the balcony with a sling shot and started shooting water balloons at the boys. Unfortunately they didn't really think that one through completely because Ronnie just locked the door so the girls got stuck on the balcony. The boys filled up water balloons and water guns and ambushed the girls on the balcony. They got them good. It looks like their plan backfired. Somehow the water war turned into the boys vs. Deena, which just ended with her getting pushed into the Jacuzzi. 
The saddest day of the season finally came when summer ended and everyone had to go home. Ronnie and Sammi actually left together drama free! Roger came with roses to pick JWOWW up and take her home. Mike left the shore house with a love/hate relationship with basically all of the roommates. It came as no shock when Vinny's mother came to pick him up from the house. Deena left next and then Pauly packed up his friend Jerry's car like a clown car because he has more stuff than all the roommates combined. Snooki was last to go so she had one last drink in the house before Papa Snooks picked her up. 
(Image courtesy of MTV)
Follow Danae @danaeyoung