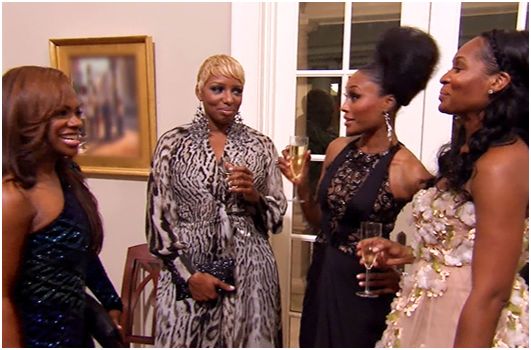 By Mike Bandy
This week's episode of RHOA began with Kim, Kim's dad, Ariana and, to a lesser extent, Sweetie, cleaning out the garage and finishing the unpacking that didn't get done when they all moved in. Kim wanted to get everything done before Kroy comes back from camp, but Sweetie seemed to have other ideas, disappearing to have a cigarette while everyone else worked. Kim is getting frustrated with Sweetie, and her dad said he would have fired her a long time ago. Their relationship has become more friendly than boss/employee, and something has got to change.

Meanwhile, Phaedra showed up at the funeral home for her first lesson in embalming, because as we all know, you have to embalm at least 10 bodies before you can get your embalming license. Unfortunately, today's practice would be on a dummy, and the funeral directress (I don't know what her technical term is) walked Phaedra through the whole embalming process. Phaedra's favorite part seemed to be hair and makeup, because as she said, it allows you to express your creative side. It was only a little bit creepy.

Then Cynthia walked in on Peter discussing the one year anniversary party he was planning for them, and when she asked about the budget for it, he told her to "relax". This sounds really familiar, doesn't it? What also sounds familiar is Peter asking Cynthia for money - he asked her for $1,000 to fund the party. But to sweeten the deal, Peter said that they'd be arriving at the party in a Bentley limousine, which perked Cynthia up. I just don't understand her - she says she's not comfortable putting her trust in his dreams, but she lets him financially abuse her. Oh, and the icing on the cake - Peter doesn't want Cynthia's sister Mal to ride with them in the limo, or to even be at the party at all. Fantastic.

Back to Kim - she and her stylist, Niki, were talking about Sweetie and how badly she's been doing lately and how unhappy she seems. Niki suggested that maybe Sweetie wants to move on and doesn't know where she stands now that Kim has her own family. I predict that we'll see the season close with Sweetie being fired.

Next up, Cynthia and Mal were in Cynthia's house making beaded necklaces like we all did in grade school, and Mal started in on Peter right away, saying that Cynthia gives him a lot of passes and using an expletive we're all familiar with to describe Peter. Cynthia got upset and said that Peter was right about not having Mal in the limo, and told her flat out that Peter doesn't like her. Ugh. There's so much animosity between everyone involved here, sometimes it's hard to know whose side to be on.

I thought we'd be able to get through an entire episode without having to deal with NeNe, but alas, we had to handle she and Gregg talking to Bryson about his latest arrest. Gregg did most of the talking, telling Bryson that he needs to grow up and NeNe told him that he needs to move out, because she's done. It was nice to see Gregg and NeNe co-parenting and trying to bring Bryson around to the right way to live, and hopefully he turns things around.

Big shocker - the limo that Peter promised Cynthia never showed up. They ended up leaving in their own car, and soon we were whisked off to the anniversary party. NeNe showed up looking like she'd brought all of Africa home with her in the form of some hideous zebra/leopard print jumpsuit, and Marlo showed up with an older white gentleman whom she introduced as her date. I guess Sheree was right!

In the meantime, Cynthia was upstairs getting ready when her mom and Mal showed up, and talked about how absolutely shocked they were that Cynthia and Peter had made it a year. See, this is just in poor taste. No matter what you think about Peter and Cynthia's marriage (and for the record, I tend to agree with Cynthia's family), you don't come to their anniversary party to talk about how ridiculous it is that they're still together.

By the time Cynthia came downstairs, she seemed just as flustered as she did on her wedding day. Maybe it didn't help that Peter whistled for everyone's attention to notice her.

Meanwhile, Sheree and Lawrence were on the way to the party when she explained to him what happened with Marlo in Africa, and her using a gay slur. Lawrence seemed shocked by that, because he's known Marlo for years, and he was determined to get to the bottom of it.

By the time they showed up at the party and called Kim, who said she wasn't coming because Cynthia had talked crap about her in Africa (can't wait for THAT showdown!), Lawrence sought out Marlo right away and said that they needed to talk. When Lawrence and Sheree confronted Marlo about using the gay slur, she completely denied it, much to Sheree's surprise.

Outside, Lawrence and Sheree filled Kandi in on what had happened, right before Peter called everyone outside for a toast, and announced that he wanted all friends and family...and Malorie. He singled her out, and she didn't appreciate it. She ran into the house crying, and Kithe, Cynthia's friend and stylist, tried to calm her down, saying that Cynthia has to make her own mistakes and to let it go. Jeez, does ANYBODY support Cynthia's marriage?!

Cynthia finally confronted Mal and said she was being disrespectful, and Mal said that Cynthia sticks up for Peter too much, before storming out of the party in a huff. Did anybody think this would end any differently?

Next week, it looks like everything comes to a head - NeNe's divorce is almost final, Kandi and Kim talk about their friendship, Cynthia and Mal deal with what happened, and I'm sure there willl be even more conflict. Can't wait!