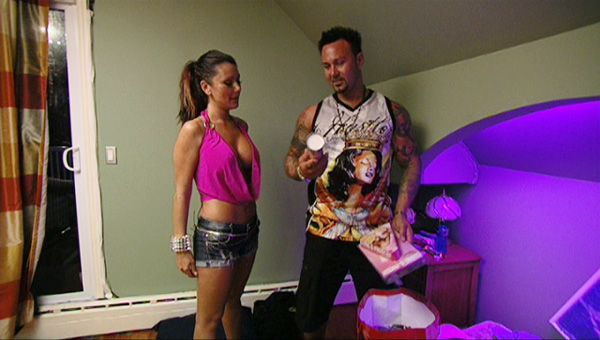 by Danae Young
This week on Jersey Shore, JWOWW celebrates her anniversary with Roger and Mike attempts to start some more drama.
Deena really likes Joey and she feels kind of lonely because all of the other girls in the house have a boyfriend. She got super excited to see him at Jenks but he had to cancel on her so she went out with MVP still. Things got a little awkward when Pauly ran into Angelina, but he said a quick hello and kept it moving. 
After Jenks things didn't go as planned for Mike or Pauly. The girl Mike brought home was "shy" and just wanted to sit and talk. Pauly was making out with his girl the entire cab ride home and when they arrived at the house she revealed that she was on her period. Yikes! Mike and Pauly both struck out. 
The next morning Mike surprised everybody by ordering breakfast for them. He didn't have cash for a tip when the delivery boy got there so he gave him protein powder as payment. The guy looked super confused but he still took it! 
It was the day of JWOWW and Roger's one year anniversary so she went to the sex store to pick up some goodies as a surprise. She had planned on decorating the smush room with roses and bondage, but Vinny and Pauly had other plans. They are sick of the smush room turning into a couples' retreat, so they took the mattress out of the room and put it outside. JWOWW walked into an empty smush room ready to decorate and had to move the mattress all the way back into the room. Luckily she still got it all set up and Roger loved it!
Deena keeps talking about Joey around the roommates and they have all been telling her he is bad news. Everyone thinks he is talking to her just to smush and that he has no other interest but that. She saw Joey and Karma and decided to confront him about it and he denied it, but then he stayed away from her the rest of the night. She continuously asked him the same question throughout the night and he got really annoyed with her. She probably should've just believed him and let it go. 
Mike called up The Unit and told him it was finally time to unveil his master plan and give Snooki a run for her money. They made a plan to get together at Karma and pull Jionni aside, but when Snooki saw The Unit and Mike together at Karma, she grabbed Jionni and got out of there fast. Mike told The Unit they had to leave too and follow them back home, but The Unit was way too drunk and he ended up getting arrested on the walk home. 
Watch all new episodes of Jersey Shore Thursdays at 10/9c on MTV.
(Image courtesy of MTV)
Follow Danae @danaeyoung