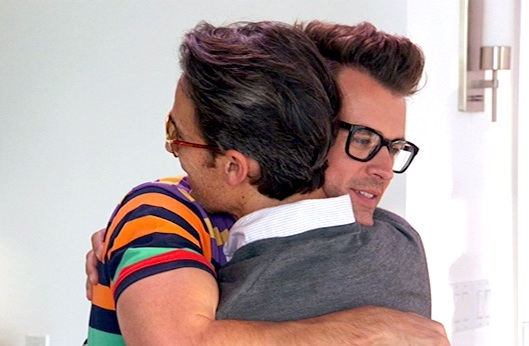 by Danae Young
This week on It's A Brad Brad World, Brad makes another trip out to New York and his father has an accident. 
Brad finally found an office space with the help of Lindsay, so they went over to sign all of the paperwork to make it official. Brad is slightly freaking out over the amount of money he is spending between the new office space and a new assistant. Plus he isn't exactly getting a whole bunch of business to help pay for anything. 
Brad went back out to New York for the Details shoot. The only problem was he had to rely on Cleo, a styling assistant, to physically pick all of the clothes up for him for the shoot since he is out in Los Angeles. Once in New York, Brad had to pick about 10 looks for the 6-8 page spread in Details. Each outfit had to portray how to incorporate color into their wardrobe. 
Things were going well until one specific red coat just really wasn't working. However, just by putting the coat on a different model, it completely changed things and everyone loved it. Success! 
Gary and Brad met with Steven, who is a close friend of their's that will be planning their 10-year anniversary party. Pretty much anything that was suggested Gary turned down because he is a bit of a control freak. At least they managed to agree on the location finally – their house!
Brad's dad and his girlfriend were planning on coming to visit in L.A., but hwen the date was approaching and his dad wasn't answering his phone calls it was a bit odd. Brad checked his email to find an email from his dad saying e won't be visiting. Of course Brad was super hurt because he and his dad have a rocky relationship as it is. 
When Sal and Annebet came over to cook dinner with Brad and Gary, Brad confessed that he may have sent a rude email to his dad's girlfriend. With things so weird between him and his dad, it made it really hard when Brad found out some very difficult news about his dad. 
Brad received some super exciting news that Canadian actress Shay Mitchell, who is on the TV show Pretty Little Liars, wants Brad to style her for a music video award show. Brad went to Starworks Group and Film Fashion with his styling assistant, Thomas, to find looks for Shay Mitchell. Brad got a text from his sister while he was pulling looks that there was a family emergency. He called her and found out a tree on his dad's property got hit by lightening so while his dad tried to chop down the tree fell on top of him. Luckily he isn't going to die, he is just in a lot of pain. 
Catch all new episodes of It's A Brad Brad World Mondays at 10/9c on Bravo. 
(Image courtesy of Bravo)
Follow Danae @danaeyoung