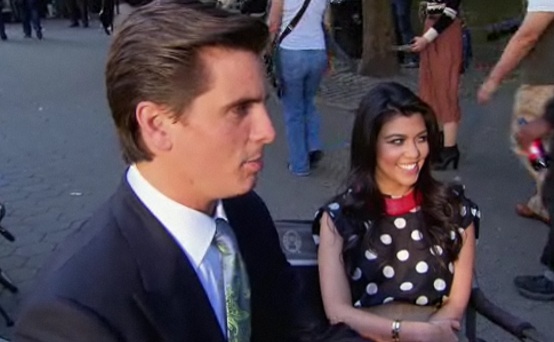 by Danae Young
This week on Kourtney and Kim Take New York, Scott and Kourtney have a fabulous portrait painted and Kim reconnects with her father. 
Scott and Kourtney went to Central Park and had a man draw a caricature picture of them. Scott wanted to put it on the wall in their apartment, but Kourtney has issues with putting pictures up in her house. 
Scott loved their caricature so much that he took Kourtney to get a portrait painted of them. When Scott left the room Kourtney asked the painters to put a tiny piece of tape on the final painting to make it look like Scott had a uni-brow. When the portrait finally arrived Scott got really excited for the unveiling. Unfortunately the painting unveiled more than he wanted. The painters came through with the uni-brow prank and Kourtney thought it was absolutely hilarious. However, Scott was less than pleased. He was so excited about the portrait and she made it into one big joke. Kris convinced Kourtney to apologize to Scott and she even agreed to hang the portrait in the house. 
Kourtney and Scott had Kim take photos of them on the rooftop so they could have some actual photos together. Those two are getting cuter and cuter each episode! 
Kris's sister Kaela came to New York to visit and Kris failed to tell Kim that she was coming so Kim was kind of upset. This was just one more thing she could add to the list of reasons why she is mad at him. Unfortunately since he failed to tell her she was so busy working that she didn't have the time to see Kaela at all. 
Kim made an appointment with John Edward. He is a medium, which means he can communicate with the dead. She wants him to speak to her father. When she told Kourtney about the appointment, Kourtney did not approve, which made Kim really upset that her own sister wasn't being supportive. 
Even though she made time to see a medium, Kim wasn't really making much time for Kaela because she didn't want to be around Kris. Unfortunately Kaela felt like Kim was mad at her or was trying to avoid her so she left New York. She ended up sending Kim a text message apologizing for coming to visit while Kim was busy working. 
Kim tried talking to Kris about John Edward and he got really upset and left. Kourtney felt really bad that Kim wasn't getting any support over this so she decided to go with her. The weirdest part about it was that John's only day available to meet with them was the anniversary of her dad's death. Creepy! 
The meeting with John was an incredibly emotional experience. Kourtney ended up feeling very happy that she chose to join Kim. He mentioned things that he could never have found out about them. Once John left Kim broke down and admitted to Kourtney that she doesn't want to be with Kris anymore. 
Watch all new episodes of Kourtney and Kim Take New York Sundays at 10/9c on E!
(Image courtesy of E!)
Follow Danae @danaeyoung