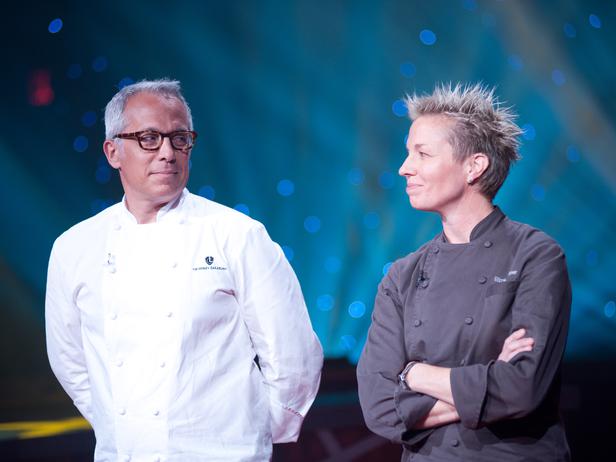 by Danae Young
This week on The Next Iron Chef, the four remaining chefs all met for their challenge in The Hamptons. 
They had $500 and two hours to get their ingredients for a 3-course seafood meal. They then had two hours to cook for over 20 people for their Chairman's Challenge, which was all about Passion. 
Chef Falkner won last week so she got a 15 minute head start along with a small boat to help her get around the harbor quicker. 
After passionately cooking for two hours, Chef Guarnaschelli revealed her meal to the judges first. She made Raw Fluke with tomato Jam and a Strawberry Cocktail, Smoked Clam Chowder with Bacon, and Lobster with Poached eggs and Hollandaise. 
Next up was Chef Falkner. She made Vichyssoise Chowder, Smoked Scallop on Corn Puree, and Lobster Cioppino. 
She was followed by Chef Zakarian. He made Seabass Salad with Celery Roll-Up, Blackfish Minute Steak with Lemon Tapenade, and Scallop Sausage with Clam Risotto. 
Last up was Chef Chiarello. He made Tuna Crudo Arrabbiata, Smoked Fluke with Gribiche, and Scallop with Carrot Caponata Puree. 
After a very tough discussion amongst the judges, someone had to be sent home. That someone was Chef Guarnaschelli. 
Chef Zakarian won the challenge and found himself a place in next week's finale. 
Chef Falkner and Chef Chiarello went to Kitchen Stadium for the Secret Ingredient Showdown. Whoever wins this joins Chef Zakarian in the finale. 
The secret ingredient was Town House crackers and Entwine wines. They each had 30 minutes to create three bites with the cracker as the serving vessel for each bite. 
Chef Chiarello was first. He  made Goat Cheese with Cabernet Caviar, Sardine Escabeche with Panzanella, and Chicken Liver Mousse with Cabernet Mustard and Brittle. 
Chef Falkner made Shrimp and Grits, Chicken Liver Mousse and Red Wine Syrup, and Lamb Meatball with Raita. 
Chef Falkner won and gets to join Chef Zakarian in the finals, which meant Chef Chiarello was sent home. 
Watch all new episodes of The Next Iron Chef Sundays at 9/8c on Food Network.
(Image courtesy of Food Network)
Follow Danae @danaeyoung