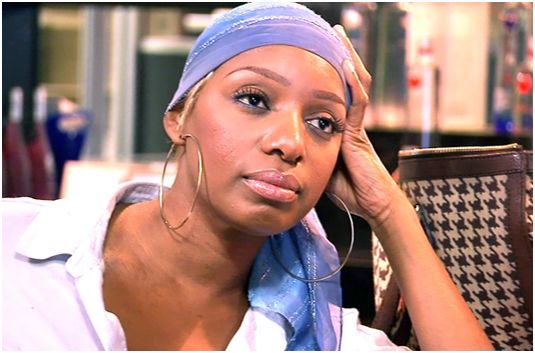 By Mike Bandy
This week's episode of RHOA began with Kandi at her boutique, aptly named Tags, with her business partner, aptly named Peaches. Phaedra showed up with a cake, to apologize for offending Kandi's mom at Kandi's birthday party by providing the...ahem...entertainment. This is the second week in a row that she's showed up with a fabulous gift to make amends - she needs to piss me off, and quick! Meanwhile, Kandi's mom hasn't spoken to her since the incident, but the ladies were more interested in talking about what life would be like if they could orally please themselves. Ultimately, they decided to orally pleasure themselves with the cake Phaedra brought instead.

There was a little bit of talk about NeNe, and how Kandi didn't understand why she got offended by the stripper, considering she used to be one. Then Phaedra said that NeNe showed her cervix for a quarter, and that was the moment I realized how much I love her.

Meanwhile, at the International Interior Design Fashion Show, Cynthia was getting ready to be the emcee, and some of the girls were coming to watch. Phaedra and Apollo showed up, because they've made amends with Peter (although I couldn't help but notice that Peter wasn't really seen anywhere near Apollo throughout the whole thing, but that's another story). Cynthia got up to the podium and proceeded to screw everything up. First she couldn't remember the name of the models. Then she couldn't remember which outfit was which. By the end of it, she just looked relieved that it was over, and so was I.

At the after party, we were introduced to Marlo & Charles, an Atlanta power couple that one half of which the tabloids said was screwing around with NeNe while she was still married. Calm down - it's Charles. 

Next, Cynthia brought Malorie and her mom to her modeling agency, and Malorie didn't look happy at all. Malorie doesn't want to be her secretary, and they got into yet another argument, which their mom broke up. Cynthia told them that Bar One was going to open for a sneak preview, but one of his investors' check bounced, and she was debating helping him out. Mal burst into tears and said that she promised she'd take care of herself and she's going back on that promise. You know, I understand where Mal is coming from, really I do, but she should mind her own beeswax. It's not her marriage, and she needs to stay out of it!

Meanwhile, Sheree was hanging out with her kids and baby daddy Bob Whitfield, when she took him aside to ask him where his 4 years of back child support is. Bob feels that when the kids are with him at his house, he pays for everything, and when they're with her, she pays for everything. That's enough for him. At the end of it, Sheree told him she'd have to take him to court if he didn't pay, and he told her to do it. She threw water in his face, but I'm not sure he saw it. Seriously - that man is cross-eyed like nobody I've ever seen. Half the time I'm not sure he even knew Sheree was in front of him. But that's another matter entirely.

Kim is two weeks from her due date! Brielle isn't too excited about the kid, because she's worried that it'll take attention away from her and her sister. Typical kid stuff, and Kim responded in a typical parent way. That's about it from her this episode.

The real story was over at Bar One, where NeNe showed up with Cynthia to check out the place, and talk about the co-hosting gig she'd have with Cynthia for the sneak preview the following night. Cynthia said that NeNe would be a perfect co host, because she's a huge celebrity. Hmm...I wonder if it's hard for NeNe to sit down with Cynthia attached to her backside. I bet her big head balances everything out. Anyway, NeNe was off to her hair appointment, and Cynthia told Peter that she'd help him out with money if he needed it, and he refused, saying he'd take care of it, but for all the wrong reasons. Mainly, he won't take money from Cynthia because Mal would run her mouth about it. There are some serious issues between Peter and Cynthia's family, and if she's not careful, her marriage might not survive them!

Back at Phaedra's office, Sheree showed up to discuss possibly taking her ex husband to court, and Phaedra offered to help, pro bono. Sheree was in tears and I really felt for her - you could tell that it's not something she really wants to do; she's just at the end of her rope with the whole situation. She said she needed to think about whether or not to file.

Then Kandi went to her mom's house to make amends, and mama Joyce was still pretty upset. She doesn't want people thinking that she parties with her daughter that way. She's her mom first, not her homegirl. I really respect Joyce and her stance on the whole thing, though I don't think Kandi realized that it would hurt her mom so badly. I was happy that they made up, and admit it, so were you.

It's the moment we've all been waiting for - the Bar One sneak preview!

Peter was running around like a crazy person, and everyone was starting to arrive, but Sheree and Lawrence were a little lost. As it turns out, Bar One is in the middle of the ghetto, which wasn't such a bad thing until Peter told Cynthia not to worry about how he came up with the other $40,000 he needed to make this night possible. My mind went a million different directions, all of them illegal.

In the meantime, NeNe, the evening's co host, was nowhere to be found. Peter decided he couldn't wait for her anymore, and revealed a big surprise all by himself - a HUGE photo of Cynthia with a very large, Pam Grier-esque afro on one wall of the bar. Most of the ladies reacted with confusion, but Cynthia seemed to love it. I didn't know what it had to do with anything, but hey, whatever makes her happy!

In the meantime, Charles filled the ladies (and Lawrence, though frankly, he counts as one of the ladies and you know you agree with me) in on what really happened with NeNe. Apparently, he went on a double date with her, and she was too into herself. He wasn't interested in her at all, so he took her back to her hotel and that was the end of it. That didn't stop anyone there from thinking that NeNe hadn't shown up yet because she knew Charles would be there (after all, her good friend Cynthia did let her know about that).

NeNe finally showed up about 5 minutes before the party ended and only said hi to a few of the girls, before moving on to mingle around with her adoring public. Sheree marveled at the fact that Cynthia didn't even say anything to NeNe about not being on time to co host the shindig, but I'm not surprised that she didn't. She'd never blow up on NeNe; something tells me she knows better.

That was the end of things this week...next week, Kim has the baby! Get ready for lots of censored swearing, screaming, and drama. SWEEEEEEEEEEEEEEETIEEEEEEEEEEEEEEEEEEEEEEEEEE!!!