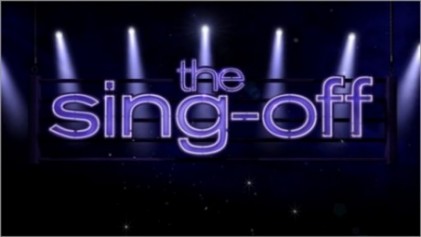 by Todd Betzold
It's the holiday season, so The Sing Off is bringing back groups from all three seasons to perform holiday and inspirational songs.
The night kicks off with the champions from all three seasons, Pentatonix, Committed and Nota, take the stage with a spirited version of "Christmas (Baby Please Come Home)." A fun start to the show.
Now time for my favorite Christmas song, "All I Want For Christmas Is You" by Mariah Carey, being sung by Delilah from Season 3 and The Backbeats from Season 2. Some girl power on that stage, so it was fun to see and Amy from Delilah kicked butt doing Mariah.
To lift the spirits, the Dartmouth Aires come out singing "All You Need Is Love" by The Beatles. It was good to see some of the other singers in the spotlight besides Michael, even though he is amazing. And sad to hear that one of the last times they'll be performing together since some of the members will be graduating (sad face)!
Season 2 winner, Committed, takes the stage with a favorite from Season 3, Afro-Blue, singing "O-o-h Child." These groups worked very well together...I enjoyed it.
We get a family reunion on stage as Jonathan Lister from Season 3's The Collective joins his brothers of Season 2's Street Corner Symphony to sing "Hallelujah" by Leonard Cohen. An amazing performance, especially since they like to un-practice during rehearsal time.
The classic crooners from Season 3, North Shore, return to the stage to sing The Beach Boys classic, "Little St. Nick." This is their type of song and I love this group...very entertaining.
Now time to see some friendly banter between the judges before we see Ben and Sara sing "Baby, It's Cold Outside." That was a fun one and I love that song, but Sara has some chops on her, which we all knew.
The new champs, Pentatonix, take the spotlight when they take the stage singing "Under The Mistletoe" by Justin Bieber. Besides being a Bieber song, I loved it...such an amazing group.
The Godfather of a capella from Season 2, Jerry Lawson, comes back to sing "Sweet Soul Music" by Arthur Conley with The Sing Off All Stars. This was a very upbeat performance and fun seeing individuals from so many of the groups on the stage at one time.
Time for the college guys to hit the stage, as the Dartmouth Aires (Season 3), On The Rocks (Season 2), and The Beezlebubs (Season 1), join forces to sing a Christmas classic, "Santa Claus Is Coming To Town." They looked like they had some awesome fun together during rehearsals and boy did that show during the performance...so fun to watch. This is the a cappella that I love!
The group with the rapping style, Urban Method, that moved into the final 3 for Season 3 is up next singing "You're A Mean One Mr. Grinch." This was very good and Troy's version of the Grinch was spectacular...excellent job!
It seems none of the other seasons wanted to come back, as The Collective from Season 3, is next singing "Santa Baby." Ruby did an awesome job as the lead and this was a sexy performance of a Christmas song.
Shawn Stockman finally hits the stage, since he didn't sing during the finale, and he'll be joining Season 1 champs Nota singing "This Christmas" by Donny Hathaway. It was a good performance and he broke out in some Spanish, so good for him.
The college crooners from Season 3, Vocal Point, get their turn singing "Let It Snow" by Frank Sinatra. This was a fun arrangement and St. Nick joins them during their performance, as Nick Lachey takes part in the performance with them...good times.
This one should be awesome, as Urban Method and Pentatonix join forces to perform with Flo Rida singing "Good Feeling." This was very good and really showcased the girls in the groups, which did an awesome job...so cool of Flo Rida to do the show.
All 14 groups hit the stage to end the show singing "Happy Christmas" by John Lennon and Yoko Ono, in honor of the troops who will finally be coming home this holiday season. A very inspirational performance and gives you a warm feeling knowing these families will be reunited after many months of battle...Happy Holidays!
(Image courtesy of NBC)
Follow Todd @tbetzold