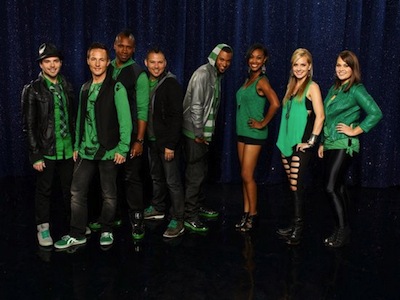 by Gina Scarpa
This season on The Sing Off, Urban Method was known for introducing us to rapapella, strong beats, sassy female lead singers, and one serious MC that had the ability to stop the show. They had their struggles throughout the competition but always came back stronger the next time they hit the stage. On last week's finale, they finished in third place but say they're grateful for the experience. Today, we caught up with member Myke to talk more about Urban Method and tonight's special holiday episode of The Sing Off.
Q. Gina, RealityWanted: When did you first start rapping and how did you become part of Urban Method?
A. Myke: I wrote my first rap in 3rd grade, but didn't really start rapping until 5th grade. I started as a result of being bored in class. I was a gifted student in elementary school and my imagination would run wild during class. So I started drawing and writing a lot. In middle school, I got into choir. By the time I hit high school I started feeling like being a rapper and singer was what I wanted to do with my life. However, rough times in high school made me feel like I didn't have what it takes to make it. So I went to college at CU for engineering and tried to quit music. About a week into college, I ended up auditioning for the a cappella group In The Buff and making it into the group... so much for quitting, right? During my four active years with In The Buff, I honed in my performance skills, becoming one of the primary lead vocalists of the group. All of my solos except for one were surprisingly strictly singing, not rapping. One year we decided to do a Kanye West song and I was able to showcase my rapping abilities. I met Tony Huerta when In The Buff hired him to record a live show for us. We immediately struck up a great business relationship. We have a lot of mutual respect for each other and work well together. When he decided he wanted to put together a hip-hop based a cappella group, he called me.
Q. Gina, RealityWanted: You found yourselves in the bottom a few times this season. Did you ever feel at times that the judges were too harsh on the group?
A. Myke: I never felt like the judges' criticisms were too harsh. They pushed our group, the girls in particular, to become better performers. They challenged us to raise our own standards and fortunately, we were able to keep fighting and growing.
Q. Gina, RealityWanted: Which performance stands out to you as Urban Method's best?
A. Myke: For me, I will always count "Love The Way You Lie" as one of our best simply because of the respect I hold for Eminem and the emotion the song evokes. Being able to perform that song with Katie and display the chemistry we have on stage was incredible. However, I actually think "Poison" may have been our best. It stayed in tune, the groove was in the pocket, and we made people move. Plus, my man Troy is a beast and it was so much fun leading with him.
Q. Gina, RealityWanted: I loved your performance with Sara on the finale! What was it like to work with her directly?
A. Myke: Working with Sara Bareilles was a great pleasure. She's very down to earth and easy to work with. Also, she was open to our creative input and wanted to make sure the song had a little bit of Urban Method sound to it. It was an incredible experience and we were all honored to share the stage with her.
Q. Gina, RealityWanted: There were definitely mixed emotions on the faces of the group when you were eliminated. What is the general feeling among you guys now that you've had a little bit of time to process it?
A. Myke: After some reflection regarding the finale's outcome, we definitely have our heads high. As a group, we are proud of the accomplishments we've made during this journey. We showcased something new to the nation and regardless of whether people liked it or not, they felt something. We will continue to shine our light.
Q. Gina, RealityWanted: Can you tell us a little about the live holiday episode and how rehearsals went?
A. Myke: Tonight is the live holiday episode and it's going to be a great show. Groups from the two previous seasons have returned to grace The Sing Off stage again and everyone has been rejoicing in their presence. There's no pressure anymore so everyone is having fun. Rehearsals have been going great and I'm confident this episode will be one to remember.
Q. Gina, RealityWanted: What is next for Urban Method and what would you like to say to your fans?
A. Myke: The sky's the limit for Urban Method. We plan on continuing to perfect this niche of ours and we will keep performing and recording. To the fans I say this: The support and appreciation you lent and continue to lend allowed us to leave the stage as champions. We are filled with humility and gratitude. Much love.
(Image courtesy of NBC)

Follow Gina @ginascarpa and "Like" her on Facebook!