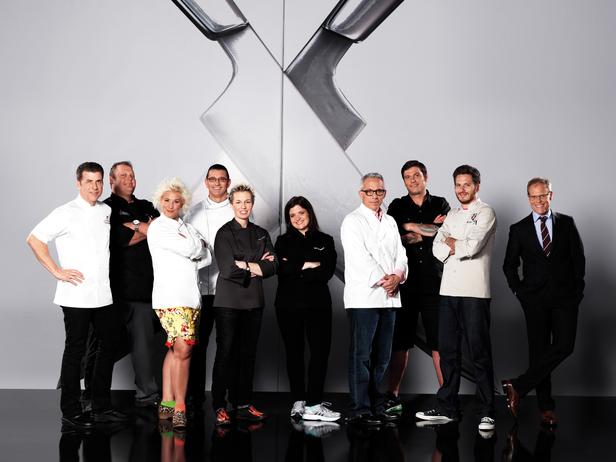 by Danae Young
This week on The Next Iron Chef, the chefs have relocated to New York. 
The Chairman's Challenge was all about storytelling. 
Each chef blindly chose a post card with a picture of a well-known location in New York on the other side. 
Chef Burrell got Central Park, Chef Falkner got the Statue of Liberty, Chef Samuelsson got Broadway, Chef Guarnaschelli got the Empire State Building, and Chef Zakarian got Times Square. 
As for Chef Chiarello, since he won last week he got to choose whether he wanted to steal a post card from someone else or blindly choose the last post card. He decided to steal the Statue of Liberty from Chef Falkner, so she was left with the Brooklyn Bridge. 
The chefs were all given $250 to shop for their ingredients in only 20 minutes at the Grand Central Market. 
With 45 minutes they had to cook for six people! 
Chef Guarnaschelli dropped her food into water with only 25 minutes left to cook. She had to come up with something to do…and quick! Luckily there was enough time to recook the food.
The judges were joined by Charlie Palmer and Marc Forgione. 
Chef Burrell introduced her dish first. Her story was about her journey to New York, so she made Grilled Cornish Game Hen with Fried Chicken Livers. 
Chef Guarnaschelli followed and her story was about her first job as a cook. She made Grilled Pork Chop with Roasted Potatoes.
Chef Zakarian's story was about New Year's Eve. He actually made four dishes. The first was Eggs with Truffle and White Asparagus. The next dish was Eggs with Smoked Fish and Caviar. The third dish was Smoked Salmon Tartare. The final dish was Superfood Fruit Soup. 
Chef Chiarello made Rabbit Porchetta with Cherry Agrodolce. His story dated back to 1753 when rabbits and cherry trees were on Liberty Island. 
Chef Samuelsson's story was all about big dreams, so he made Hot Smoked Salmon and a Crunchy Steak Salad. 
Chef Falkner based her story off of the architect of the Brooklyn Bridge, so she made Pork Schnitzel with Fennel and Apple. 
Chef Burrell was the overall winner of the challenge. The judges not only loved her food, but her story as well. 
Chef Falkner and Chef Samuelsson were the bottom two that had to battle it out in the Secret Ingredient Showdown. 
The secret ingredient this week was bagels. 
Chef Falkner presented her dish first. She made Bagel with the Works. 
Chef Samuelsson followed with Lox, Bagel and Cream. 
With much deliberation, the judges finally came to a decision. Chef Falkner made it to the final five! 
Chef Samuelsson's facial expression was filled with shock when he found out he was being sent home. 
Watch all new episodes of The Next Iron Chef Sundays at 9/8c on Food Network.
(Image courtesy of Food Network)
Follow Danae @danaeyoung