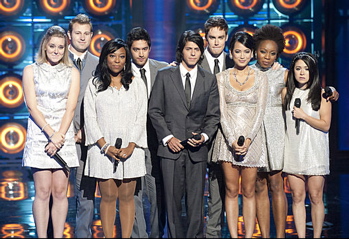 by: Todd Betzold
With each new week on The Sing-Off, it's great to see the remaining groups perform their new songs, but it is not fun to see any of these groups go home. Last night we got to see two performances from the groups: current radio hits and hits from the '60s. Unfortunately for Kinfolk 9, their rendition of "Price Tag" by Jessie J did them in, as they were sent home. Today we got an exclusive interview with Jenilee from Kinfolk 9 to talk about their experiences on The Sing-Off.
Q: Todd, RealityWanted: How long have you been singing together?
A: Jenilee: Everybody in the group is an extended family. As a collective group, probably only a week before the show. Some of us have toured together and some of us have written songs together. Right before the show we had to insert a new guy, because one of our guys booked a tour.
Q: Todd, RealityWanted: What made you all decide to audition for The Sing-Off?
A: Jenilee: It was something that was different. All of us are solo artists and pursuing solo careers. Coming together to learn a new style of singing is what excited and thought wouldn't it be awesome to win the show doing something we weren't that familiar with.
Q: Todd, RealityWanted: Did you feel at a disadvantage being new to the a cappella scene compared to the other groups?
A: Jenilee: Absolutely. We knew we had to work extra harder to get to the level some of these groups are at and we did. We started rehearsing and we took every moment we had to rehearse. We never hung out in Jacuzzi with the other groups, we were rehearsing....woke up early to rehearse.
Q: Todd, RealityWanted: What was the best part of being on The Sing-Off?
A: Jenilee: I think the best part is getting to know the rest of the groups, rehearsing for the opening numbers was so much fun. To not be stressed about our own rehearsals. To be silly with each other and it was a break from our normal day.
Q: Todd, RealityWanted: You ended the performances for the night on a high note with your rendition of "Let It Be," which I loved. What made you choose that song?
A: Jenilee: When we had to choose a '60s song, we knew we wanted to do The Beatles...they're one of our inspirations. We originally choose "Blackbird" and at one of our last rehearsals, a day or two before we were to perform, we realized it wasn't as strong as we intended it to be. So, we changed it at the last minute and it was a definite risk. With our technical problems and now shortened time to prepare, but we all felt strongly about it and knew we had to work that much harder. We said we are just gonna let it be and hope we made the right decision.
Q: Todd, RealityWanted: What were you thinking when it was your group and Delilah in the bottom two?
A: Jenilee: I wasn't really thinking. We were up there for so long. The deliberation process took 2 hours, as the judges were deciding what to do. Everyone in our bracket is amazing and no one deserved to go home. Being in the bottom in Delilah was hard. I definitely was hoping it wouldn't be us, but we weren't prepared to sing our swan song. We were nervous to watch it back last night.
Q: Todd, RealityWanted: What's next for Kinfolk 9?
A: Jenilee: It's definitely not the end of us on The Sing Off. We put up videos of songs we didn't get to do on the show and we just put out a new video featuring new vocals from the female singers in the group of the song "The Best Thing I Never Had" by Beyonce on our website www.kinfolk9.com and plan on doing more of those. We have shows booked already...lots of things in the works. Definitely not the last you'll hear of us.
The Sing-Off airs Mondays at 8/7c on NBC.
(Image courtesy of NBC)
Follow Todd @tbetzold